Literature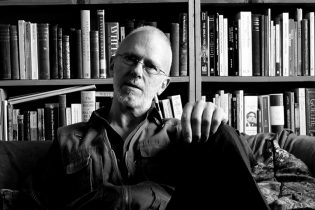 Trevor Joyce
Trevor Joyce is a poet, translator, editor and publisher. He was born in Dublin in 1947, and now lives in Cork.
He co-founded New Writers' Press in Dublin in 1967, and was a founding editor of the influential journal of poetry and criticism, The Lace Curtain. His early collections included Pentahedron (NWP, 1972), and The Poems of Sweeny Peregrine (NWP, 1976), a working from the middle-Irish Suibhne Gealt.
In 1995, NWP issued stone floods, his first publication in almost twenty years. In 1997 he co-founded SoundEye: The Cork International Festival of the Arts of the Word, which ran annually until 2017. Having worked as a business systems analyst in industry for several decades, he became a full-time writer in 2000.
His work over the last twenty years explores the possibilities of found text, computer-mediated composition, and writing under constraint. He has produced workings from classical Chinese poetry, from Hungarian, Finno-Ugric and Turkic folk-songs, and from anonymous materials out of the Irish folk tradition. A prose assemblage, STILLSMAN, was exhibited in the Vinyl Project in 2005, and has been presented as a performance work by Art / not-art.
His collected poems to 2000 were published as with the first dream of fire they hunt the cold (NWP/Shearsman, 2001). More recent volumes include What's in Store (The Gig, 2007) and Courts of Air and Earth (Shearsman, 2007). He has also engaged, via radical modes of constrained translation and rewriting, with the poetry of the Cork-based Elizabethan poet, Edmund Spenser, in Rome's Wreck (Cusp Books, 2014) and Fastness (Miami University Press, 2017). His Selected Poems 1967-2014 was published by Shearsman in 2014.
Joyce has been included in representative anthologies, including the Penguin Book of Irish Poetry, the OUP Anthology of Twentieth-Century British and Irish Poetry, and the Wake Forest Series of Irish Poetry. He was a Fulbright Scholar in 2002/3 and served as Visiting Fellow in Poetry to the University of Cambridge in 2009/10. He was awarded in Italy the 2016 N.C. Kaser Poetry Prize.
Photo credit: Jason Lee