Literature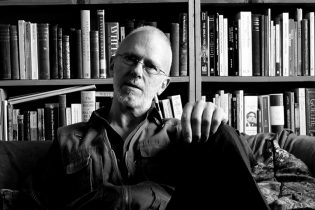 Trevor Joyce
Trevor Joyce co-founded New Writers' Press in 1967, and was a founding editor of the influential journal of poetry and criticism, The Lace Curtain. His early publications included Watches (1968) and Pentahedron (1972). The Poems of Sweeny Peregrine, a working from the middle-Irish Suibhne Gealt, appeared in 1976.
In Dublin and Oxford he conducted seminars and lectured on classical Chinese poetry, and visited the People's Republic of China as a poet at the invitation of the Chinese government in 1983. Having read Philosophy and English at UCD., he moved to Cork where he read Mathematical Sciences in UCC.
In 1995, NWP issued stone floods, his first publication in almost twenty years. In 1997 he co-founded SoundEye: The Cork International Festival of the Arts of the Word. Having worked in industry for many years, he became a full-time writer in 2000.
He has published numerous papers on contemporary poetics, twice conducted the advanced poetry workshop at the Listowel Writers Week, and lectured and given public readings of his work throughout Ireland, the U.K., Europe and the U.S.A. He was text-editor of On Art, Possibility & Democracy (2006).
Recent work explores the possibilities of found text, computer-mediated composition, and writing under constraint. He has produced workings from classical Chinese poetry, from Hungarian, Finno-Ugric and Turkic folk-songs, and from anonymous materials out of the Irish folk tradition. A prose assemblage, STILLSMAN, was exhibited in the Vinyl Project in 2005, and has been presented as a performance work by Art / not-art.
A collected poems to 2000 was published as with the first dream of fire they hunt the cold (2001). More recent collections include What's in Store (2007) and Courts of Air and Earth (2007). He is a Fulbright scholar.
For further information please visit:  soundeye.org/trevorjoyce
Photo credit: Jason Lee