Visual Arts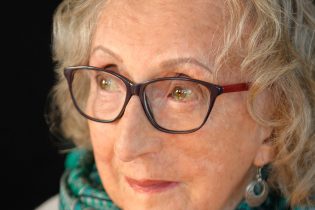 Margaret Irwin West
Margaret Irwin West is a painter and printmaker, born in India of Irish parents. She returned to Ireland at the age of nine and grew up in Co Wicklow. She was schooled at home for three years. This enabled her to attend regular drawing lessons with Lilian Davidson,RHA from whom she received a thorough classical foundation. After taking her primary degree in languages at the University of Dublin, Trinity College, she studied painting at the studio of the cubist teacher André L'Hôte, in Paris, as did many other Irish painters of the twentieth century.
In 1957, she married, then spent time in Scotland and England, raising her family. She returned to Ireland in 1967, and began to teach part-time. Whilst studying for National Art Teachers Certificate, a craft based module at the Graphic Studio, Dublin introduced her to Intaglio printmaking which became her chosen medium of expression. Afterwards, she taught Art and Design full-time, at second and third level. She spent her final nine years teaching in the Faculty of Education, National College of Art and Design, Dublin before retiring in 1991.
Since then she has been living in Connemara and working as an Intaglio Artist Printmaker. She has exhibited in many juried and open shows, in the UK and Ireland. She has received various awards and residencies. Her work is held by a number of public bodies, as well as by private collectors. In 2008, she received a "Lifetime Achievement" Award from Galway County Council. In April 2015, she held a retrospective solo exhibition in the Leinster Gallery, South Frederick Street, Dublin.
Her imagery is drawn from observation. Much of it refers to the early Christian and prehistoric sites, which abound in the area where she lives.