Literature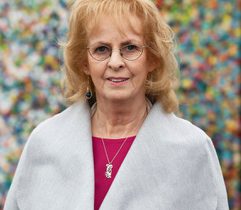 Rita Ann Higgins
Rita Ann Higgins was born in 1955 in Galway, Ireland. She has published 10 collections of poetry, a memoir in 2010 and a book of essays with poems in 2019. She left formal education at 14. As an adult, in NUIG she received a Dilploma sa Gaeilge and a Diploma in Women's Studies 1994-1996.
Poetry collections from Salmon Poetry include; Goddess on the Mervue Bus(1986), Witch in the Bushes (1988), Goddess and Witch (1990), Philomena's Revenge (1992) Higher Purchase (1996).  Poetry collections from Bloodaxe include; Sunny Side Plucked (1996), An Awful Racket (2001), Throw in the Vowels: New & Selected Poems in May 2005 (to mark her 50th birthday) Ireland is Changing Mother(2011) and Tongulish (2016).
Memoir & Essays include Hurting God, part essay part rhyme 2010 (Salmon)a memoir in prose and poetry.
Our Killer City, essays and poems from Salmon in 2019. Her plays include; Face Licker Come Home (1991), (published by Salmon) God of the Hatch man (1992), Colie Lally Doesn't Live in a Bucket (1993) Down All the Roundabouts (1999), The Big Break 2004 (screenplay) The Empty Frame (inspired by Hanna Greally, 2008),
THE PLASTIC BAG (A play for radio 2008). The Colossal Longing of Julie Connors (2012) Screenplays in the Irish Language Straois / The Smirk (2018) Screenplay Í dTeanga Eile/ They Speak in Tongues (2018)
As editor, Out the Clara Road: The Offaly Anthology (1999), Word and Image: a collection of poems from Sunderland Women's Centre and Washington Bridge Centre in 2000. Co-edited 'FIZZ' Poetry of resistance and challenge, an anthology written by young people, in 2004.
Rita Ann Higgins is a recipient of Galway County's Writer-in-Residence in 1987, Writer in Residence at the National University of Ireland, Galway, in 1994-95, Writer in Residence for Offaly County Council in 1998-99. Green Honors Professor at Texas Christian University, in October 2000. Other awards include a Peadar O'Donnell Award in 1989, several Arts Council bursaries. Sunny Side Plucked' received a Poetry Book Society Recommendation. Honorary Fellow at Hong Kong Baptist University Nov 2006. She is a member of AOSDANA
As competition Judge; The IMPAC fiction prize in 2005, The Listowel Novel of the Year prize in (2013)
The Fish Prize (2000), The Listowel Prize for poetry in (2007), The Hotpress ,Write Here, Write Now prize (2018)
Selected anthologies include; Dogs singing, Ed Jessie Lendennie. Salmon Poetry, Everything to Play For: Ed, John Mc Auliffe, Images of Women: An Anthology of Contemporary Women's Poetry,Ed By Myra Scneider & Dily's Wood, Modern Irish Writers: A Bio-critical Sourcebook. Ed by Alexander G Gonzalez, Lucy Collins: Poetry by Women in Ireland a critical Anthology. Fermata-writing inspired by music Ed by Eva Bourke & Vincent Woods.
The Field Day Anthology of Irish Writing Volume V. Arguments of Heart and mind: Selected essays 1977-2000 Janet Montefiore. The Penguin Book of Irish Poetry Ed Patrick Crotty. The Wake forest Book of Irish Women's Poetry 1976-2000. Dodging Around the Grand Piano, Sex, Politics and Contemporary Irish Women's Poetry by Ailbhe Smyth. Shine On: Daedalus Press Ed Pat Boran. Don't Ask me What I mean (poets in their own words) Ed Claire Brown & Don Patterson.
Radio appearances include; Arena (several times), The Brendan O Connor Show, Playback (several times), Lyric FM, BBC Northern Ireland, BBC Manchester. National Television Appearances: The Saturday Night Show 2014, The Late Late Show 2016, The Late Late Show 2017
Prison Workshops: Cork Prison, Limerick Prison, Loughan House Open Prison. Co Cavan, Mountjoy Prison, Mountjoy Women's Prsion Dochas, Mahgaberry Prison Belfast, Highpoint Prison UK.
Voluntary Community workshop 2013-2015 with Galway Grow Group- promoting positive mental health where they produced a play based loosely on Chekov's Ward No Six. Written and performed by the group.