Visual Arts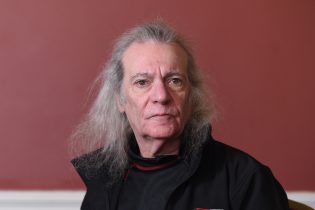 Brian Henderson
Brian Henderson was born in Wicklow in 1950. He moved to New York in 1971 and has since divided his time between Ireland and the US. He is known as an abstract artist, for the bold and vibrant use of colour, scale and structure.
His first solo exhibition was held in the Project Arts Centre in 1971, the same year he was awarded the Maccauley fellowship aged just 21. Since then he has exhibited extensively both at home and abroad from the Soho Centre for Visual Arts (with Ursula Von Rydingsvard) in New York to Cape Town, South Africa. Between 1968 and 1976 his work has featured in six Irish Exhibitions of Living Art; at the Musee d'Art Moderne de la ville de Paris, France (Art Irlandais Actuel, Aos Og) and at the Right Bank Gallery, Brooklyn, New York (The Abstract Irish). He received the Glen Abbey Award in 1972.
More recent exhibitions include 'Take Heart' after 9/11, Relief Show, 23rd St. New York, (2002); 'Peace', Side Show Gallery, New York (2004-2005); 'Works on paper' Side Show Gallery, New York, (2005); 'Abstract almost Abstract', Ranelagh Arts Festival (2007);
His work now forms part of many public collections including, The Arts Council of Ireland, IMMA, the Korean Embassy in Dublin, the Irish Embassy, Luxembourg, the Office of Public Work (OPW), Dublin, Self Portrait Collection of Ireland, the Shelbourne Hotel, Dublin and Stockard Channing, New York City.