Visual Arts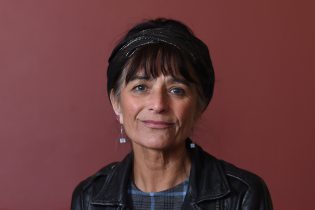 Frances Hegarty
Hegarty was born in Teelin, Co. Donegal. She emigrated to Scotland as a Gaelic-speaking teenager in the late 1950s, subsequently learning English.
The work of Frances Hegarty includes drawing, film and video, audio and live action, and public art. Her approach is simultaneously personal and issue-led, attesting to the struggle to have an aesthetically-engaged life without the loss of political consciousness. Recurrent motifs in the work include: the female figure, especially in landscape; the bodily gesture, in time; the "hand-made" mark, between drawing and writing; the physical features of body and land. These motifs point to deeper concerns, such as: "land" and "self" as a cultural and political constructs; language and aesthetics as vectors of both tradition and transgression, especially in the politics of cultural and personal agency.
Beginning with the neon project For Dublin (Irish Museum of Modern Art /Nissan Art Project 1997) Hegarty established a collaborative practice with her long-term partner, British artist Andrew Stones. This joint work (documented on a separate web-site) is grounded in temporary site-specific works. Typically, these works begin with the aim of offering a contrary perspective on given location through the use of visual disruption, illusion and intellectual play.
Hegarty & Stones have been commissioned to make site-specific works in the cities of Sheffield (Seemingly So Evidently Not Apparently Then, Site Gallery 1998), Birmingham (Orienteer (A-Z, Dawn to Dusk) Ikon Gallery 2000), Belfast (Overnight Sensation, Ormeau Baths Gallery 2001) and Bradford (Extra, Bradford Film Office 2003). Their commissioned video work Ex Machina was presented in Carlow in 2006 and again in 2016. Their suite of four interlinked video installations Tactically Yours (Butler Gallery, Kilkenny 2007) consolidates some of the formal qualities and concerns of their earlier collaborative projects, especially a concern with the boundary between the personal and the political.
Hegarty and Stones's long term project, The Land That… is a suite of video installations concerned with a plot of land in Donegal, scheduled for exhibition at the Mac, Belfast, in 2019.