Literature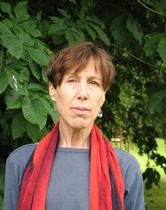 Kerry Hardie
Educated in Bangor Co. Down, and University of York, Kerry Hardie worked for the BBC in Belfast and later the Arts Council of Northern Ireland. She now lives in Co. Kilkenny.
Her work has won a number of awards including: The Lawrence O'Shaughnessy Award for Poetry, University of St Thomas, Minnesota; The Michael Hartnett Award; A Patrick & Katherine Kavanagh Award for Poetry; and The Friends Provident/National Poetry Prize (Ireland).
She was Writer in Residence at the Centre d'Art i Natura de Farrera, Catalunya in 2005, then at the Centre Culturel Irlandais, Paris in 2006. In 2004 she won a James Joyce Foundation Travel Award to Australia and China, was invited to address a Writers' Conference in Moldova in 2003, and represented Ireland at the International Meeting of Poets in University of Coimbra, Portugal 2001.
Poetry: The Silence Came Close (2006 Gallery Press); The Sky Didn't Fall (2003 Gallery Press); Cry for the Hot Belly (2000 Gallery Press); A Furious Place (1996 Gallery Press); In Sickness, (chapbook 199) Honest Ulsterman, Belfast.
Novels: The Bird Woman (2006 Little, Brown, New York, Harper Collins, London); Hannie Bennet's Winter Marriage (2000, Harper Collins, London), also published as A Winter Marriage (2002 Little, Brown, New York).