Visual Arts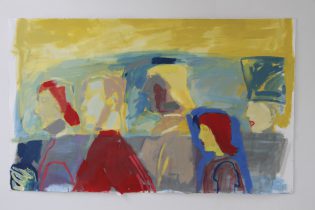 Alice Hanratty
Born in Dublin, Alice Hanratty studied painting and printmaking at the National College of Art & Design in Dublin and the Hornsey College of Art in London. She worked and travelled in East Africa for several years before returning to Ireland.
In addition to showing work in major Irish group shows, she represented Ireland at International Impact Exhibition, Kyoto, Japan (1989); Works on Paper Group Exhibition, the Armory, New York (1992); London Original Print Fair, Royal Academy of Arts, London (1995); International Biennale of Print, Beograd, Serbia (1998); and the "Estampe" International Print Exchange, Paris (2001).
Since the mid-1990s, she has frequently exhibited prints and drawings at the Royal Hibernian Academy, in both solo (2001, 02) and group shows (250 Years of Drawing, 1996; Spectrum, 1997; Millennium Exhibition, 1999; Selfportraits/Work, 2000).
Recent commissions include suites of drawings for the refurbishment of Landsdowne House, Dublin (2001) and for a new education centre in Galway by De Blacam & Meagher Architects (2002).
Her work is held in collections including Trinity College, Dublin; the Department of the Taoiseach; the Arts Councils of Ireland and Northern Ireland; and the state galleries of Turkey in Istanbul, and Italy in Catania.