Visual Arts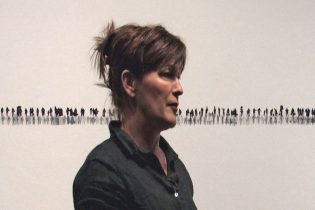 Anita Groener
Anita Groener was born in The Netherlands and is living and working in Dublin. She exhibits her drawings, installations, films, and animations internationally.  Recent exhibitions include Riverside Art Museum Beijing, China; Volta Basel, Switzerland; Art on Paper, New York, USA; Art Miami, USA; Irish Museum of Modern Art, Dublin; Stedelijk Museum Schiedam, The Netherlands; Dupont Underground Washington DC, USA; Centre Culturel Irlandais, Paris, France; Witteveen Visual Art Centre, Amsterdam, The Netherlands; Kilkenny Arts Festival; Tulca Visual Arts Festival; Point B, Williamsburg, NYC, USA; Poggiali & Forconi Gallery, Florence, Italy; and Rubicon Gallery Dublin.
Asking what it is to be human today, Anita Groener explores the substance of trauma and loss rooted in this question. The artist focuses on specific current events, their archetypal and psychological resonances, tracing urgent connections between people driven from their homes through armed, economic or political conflict, and her own life and family. The deliberately modest means of Groener's installations and line drawings—twigs, cut paper, straight pins, gouache, twine—speak to the fragility of life and society. Her art implicates herself and us, asking questions about the ethics of witnessing and aesthetic response.
Her work is represented in numerous public and private collections including The Arts Council of Ireland; The Irish Museum of Modern Art; the State Art Collection, Ireland; C21 Museum Hotels, USA; Sun Communities USA; VU University Medical Center, Amsterdam; DELA Insurance, The Netherlands; The National Collection of Contemporary Drawing Ireland; AIB; ABN-AMRO Bank and Facebook EMEA Headquarters.