Visual Arts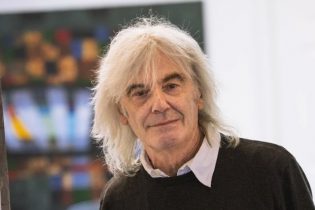 Tim Goulding
Born in Dublin in 1945, Tim Goulding grew up beside the Dargle river in Co.Wicklow.
He is largely self-taught as a painter. He represented Ireland at the Young Artists from Around the World exhibition in New York, 1970; the Paris Biennale 1971; and at Cagnes-sûr-Mer, 1977. Solo exhibitions include David Hendriks Gallery 1969-87; Carega Gallery, Washington State, U.S. 1988 +90; Kerlin Gallery, Dublin 1989; Galleria Moira, Lisbon, 1990; Carroll Gallery, Longford, 1991; Rubicon Gallery, Dublin 1994 + 96; Vangard Gallery, Cork 2001 + 2006; Catherine Hammond Gallery, 2007. The Crawford Municipal Gallery in Cork held a five-year retrospective of his work in 1991.
His paintings are held by the Arts Councils of Ireland and Northern Ireland, the Irish Museum of Modern Art, the Hugh Lane Municipal Gallery of Modern Art in Dublin, Trinity College, Dublin, Bank of Ireland, Crawford Municipal Gallery, Cork, The National Self-Portrait Collection, Limerick, The Ashmolean Library, Oxford amongst others. He won the Iontas painting prize in 1993.  He is represented by Taylor Galleries Dublin, Vangard Gallery, Cork and Catherine Hammond Gallery, Glengarriff.
" I make paintings that straddle the boundary between abstraction and realism. The triggers are often from the 'real' world and a resonance of that lingers in the images whilst the search for a new harmony orchestrates within the four walls of the picture. I wish to make something that looks as if it came about by natural causes, that has an air of inevitability; something that exudes a buttery or gritty poetry, that makes you discover it as you might an individual pebble on the beach, shining in its own quiet way.  Paring down the theoretical verbiage/garbage to a minimum it could be said 'I see and play'." Tim Goulding 2007
For further information please visit: www.timgoulding.com