Visual Arts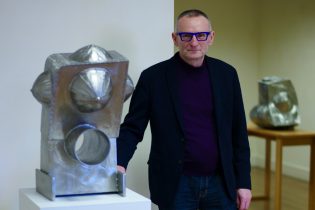 John Gibbons
John Gibbons was born in Ennis, County Clare and works in London. He studied at Limerick School of Art, Crawford School of Art, Cork and St. Martin's School of Art, London. He was awarded the Macauley Fellowship in Sculpture in 1975 and continued to receive many awards since then including the Bryan Robertson Trust  Award in 2008. he has been a visiting artist and attended residencies in the USA, Canada, Europe and India.
His solo exhibitions in Ireland, Spain, Hungary, Germany and the USA. include, National Portrait Gallery, London, Crawford Municipal Art Gallery, Cork, Serpentine Gallery, London, Kettles Yard, Cambridge, Butler Gallery, Kilkenny Castle and Nograd History Museum, Salgotarjan, Hungary.
The collections in which his work is represented include:
Tate, London, Art Gallery of Alberta, Edmonton, Canada, The Modern Art Centre / Calouste Gulbenkian, Lisbon, The Museum of Contemporary Art, Barcelona, Spain, Fitzwilliam Museum, Cambridge, Kasser Art Foundation, USA, The Czech Museum of Fine Arts, Prague, The Whitworth Art Gallery, Manchester, Crawford Art Gallery, Cork, Ireland, Jesus College, University of Cambridge, Syracuse University, New York, USA, OPW, Dublin, Ireland, The National Self-Portrait Collection, University of Limerick, Ireland, Nograd History Museum, Salgotarjan, Hungary.
He was elected Emeritus Professor, University of Southampton, 2009.
Website: www.johngibbons.org.uk