Choreography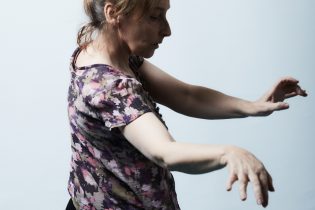 Fiona Quilligan
Fiona Quilligan, award-winning choreographer, born in Dublin, trained at the London School of Contemporary Dance and from 1982-86 performed with Dublin City Ballet. In 1986, she founded Rubato Ballet, creating original works for the company which received high critical acclaim, the Nijinsky medal from Warsaw and AIB Better Ireland Award in Arts and Culture. In 2014  Fiona received an MA in performance from the University of Limerick. She is also a founding member of Dance Ireland.
For 2021|22 Fiona is currently researching a new work Ancestor Reconfigured with Solstice Arts Centre which reflects on the early Neolithic period in Ireland. My research envisages the movements of Neolithic bodies; their physical interactions with each other and the landscape of an emerging farming community; and crucially with passage graves. Drawing inspiration from these tombs, imaginatively exploring the pace and activities of their builders and users, she is creating a repertoire of moves suited to a people that presumably cared for nature, experienced time, the night skies and perhaps even death, in an entirely different manner to the way in which we inhabit the contemporary world. "and what would our Ancestors think of this virus bending low to plant their first seeds in Spring?"
In 2020 she created COVID DANCES -MIDSUMMER in response to the pandemic for Solstice Arts Centre and also undertook a sequence of solos and duets with Olwen Grindely and Anderson de Souza,  in the company of trees – IVEAGH GARDENS DUET for the Irish Cultural Centre London. Recent works 2018 – WOMAN IN GLASS – a homage to sculptor James Mckenna – focused on the female consciousness in a series of embodiments informed by Mckennna's figures in stone, wood, and bronze with score by David Collier and premiered in Smock Alley theatre.
In 2015 Fiona collaborated with visual artist Paola Catizone in Converge/Diverge – a work that expressed solidarity for the innocent people fleeing war zones of the Middle East and was performed in the Back Loft Studio. She further presented the creative process, film and text in the Rathmines Library Exhibition Room December in 2016. Casts and Conversations in 2014, which premiered at the Project Arts Centre. A series of solo and duet works Paper Pylons 2011 at the historical site of Wood Quay inspired by archival photographs of the hydro electric project the Shannon Scheme, followed by Pas de Chat in 2013 – an autobiographical portrait which premiered at Project Arts.
Her early works include: Fertility Dance, a site-specific dance work for the Pillar Room, Rotunda Hospital. A documentary Damhsa i mBláth profiling her creative process of Fertility Dance was funded by the Arts Council and TG4, and broadcast May 2000 and for RTÉ April 2004. Cúchulainn a Chroí, based on Táin Bó Cuailnge, premiered at the National Gallery of Ireland and Anna Livia Plurabelle – a series of embodiments inspired by Joyce's Finnegans Wake, for DanceFest at the Samuel Beckett Theatre.
In the nineties Fiona pioneered links with related art disciplines building a special relationship between the choreographer, composer, sculptor, visual artist and poet. Her commitment to commissioning Irish composers for her acclaimed new dance works include Fergus Johnston for Signals and The Wounded Child, Raymond Deane for Bull Dance and Monkey Rib with works in wood and bronze by sculptor Tim Morris performed at the RHA Gallagher Gallery also Martin O'Leary A Close Shave and Live Sax which premiered in the Project Arts Centre. She has collaborated with jazz musicians Mike Nielsen, Richie Buckley and in traditional Irish music with Frankie Lane, Emer Mayock, Robbie Harris and Paul Kelly in Dark Pigeons at the Samuel Beckett Theatre, Cúchulainn a Chroí at the National Gallery of Ireland, and with Liam Ó Maonlai and Kila in Éamann Laoch A Linne.
Fiona has also commissioned renowned Irish artists as seen in Janet Mullarney's fleeting figures for Dance Strokes, Michael Mulcahy whose person and art enhanced a very special year for the company in Images of Nijinsky, the haunting voice of Paula Meehan in performance of her poem Wounded Child, Elizabeth Cope's vitality of line and colour in rehearsals for Monkey Rib and James McKenna's inspiration and innovation expressed in figurative sculpture for Bull Dance.
https://www.fionaquilligan.info/