Visual Arts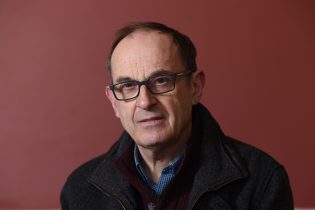 Sean Fingleton
Sean Fingleton was born in Malin in County Donegal. He studied at University College, Dublin where he received a BA in English and Philosophy. He also studied art at Letterkenny RTC, and National College of Art and Design.
His main body of work is landscape painting in oils. In 1985 'Crossing' is a seminal work – a giant raven crosses a sunset sky with massive wings and pitch-black plumage over a landscape of forest and mountain. From this studio painting, he moves into plein air painting which is at first intense and visceral. In later works, nature appears more benign he seeks to put down the essence of what he sees. Feeling and expression are at the foremost – visual statements in paint, moments in being that cannot be expressed in words.
His work forms part of the collections of the Arts Council of Ireland, IMMA, European Parliament in Strasbourg, the Office of Public Works, the Bank of Ireland Collection, the Great Book of Ireland, Gluckman's Gallery Cork, the Royal Hospital in Gloucester and in many public and private collections throughout Ireland. He has had one-man shows with Taylor Gallery, Dublin Temple Bar Gallery, Dublin Musashino Gallery Tokyo and The Barbara Stanley Gallery London.
In 2017 he was an invited artist in Facing West Boyle Arts Festival, RHA exhibition 2016 and the Municipal Gallery dlr Lexicon in Finders and Keepers exhibition, 2015. He has been the recipient of many prizes, including a 1986 GPA Award, and in the same year an Independent Artists award, The Fergus O'Ryan RHA Award 1993 and has been twice a prizewinner at the annual Claremorris Open Exhibition. He was made a member of Aosdana in 2006.