Literature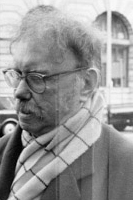 Pádraic Fiacc
Pádraic Fiacc was born in Belfast in 1924, raised in New York, and returned to Belfast in 1946.
His first collection of poetry, Woe to the Boy, won the AE Memorial Prize in 1957; later collections include By the Black Stream (1969), Odour of Blood (1973), Nights in the Bad Place (1977), Missa Terriblis (1986), Ruined Pages (1994), Red Earth (1996) and Semper Vacare (1999).
He edited The Wearing of the Black, a 1974 anthology about Northern Ireland that provoked significant public debate. He received Arts Council bursaries in 1976 and 1980, and in 1981, a Poetry Ireland Award.
More recently he was working on his autobiography and a new collection of verse, entitled A Little Death. He lived in Belfast.