Music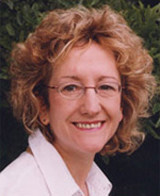 Éibhlís Farrell
Born in Rostrevor, Co. Down in 1953, Éibhlís Farrell was educated at Queen's University, Belfast and Bristol University, and has a doctorate in composition from Rutgers University in New Jersey, and studied composition with Raymond Warren, Charles Wuorinen and Robert Moevs.
She has represented Ireland at the International Rostrum of Composers, and has been guest composer for the Anna Livia International Opera Festival in Dublin and for the Tufts University/New England Conservatory International Composers' Conference in Talloires, France. Her output encompasses a wide variety of orchestral, vocal and chamber works.
Recent compositions include Duo Seraphim, Setanta, O Star Illumined by the Sun, Mass of Christ the Redeemer (celebrating the centenary of the Redemptorist Order of Ireland), Morning Star, Maria Dulce Maria, and An Chruit Draíochta, commissioned by West Wales Arts. In her choral work, she has frequently used text by the 12th-century scholar and Benedictine nun Hildegard of Bingen, in particular for commissions to celebrate International Women's Day and for the Adapt Women's Refuge Centre in Limerick.
Recent international performances have included Malta, Turin, Venice, Prague, the U.S., and St. David's Cathedral, Wales. She is Head of Humanities at the Dundalk Institute of Technology, and is a Fellow of the Royal Society for Arts.