Literature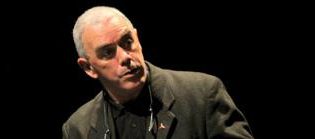 Theo Dorgan
Theo Dorgan was born in Cork in 1953. He is a poet, novelist, prose writer, documentary screenwriter, editor, translator and broadcaster.
His poetry collections Include The Ordinary House Of Love (Galway, Salmon Poetry, 1991); Rosa Mundi (Salmon Poetry, 1995); and Sappho's Daughter (Dublin, Wave Train Press 1998). Days Like These (with Tony Curtis and Paula Meehan) was published in 2007 by Brooding Heron Press, Waldron Island WA, in the USA. In 2008 Dedalus Press, Dublin, published What This Earth Cost Us, reprinting Dorgan's first two collections with some amendments. After Greek (Dublin, Dedalus Press, 2010), his most recent collections are Nine Bright Shiners (Dedalus Press 2014) and Orpheus (Dedalus Press 2018).
Songs of Earth And Light, his versions from the Slovenian of Barbara Korun, appeared in 2005 (Cork, Southword Editions). In 2015 his translations from the French of the Syrian poet Maral al-Masri, Barefoot Souls, appeared from ARC Publications, UK and a further collection of translations of al-Masri, Liberty Goes Naked was published in 2017 by Southword Editions, Cork. In 2019, Coiscéim published Bailéid Giofógacha, his translations into Irish of Romancero Gitano by Federico García Lorca.
He has published a selected poems in Italian, La Case ai Margini del Mundo, (Faenza, Moby Dick, 1999), and an Italian translation of Greek appeared as Ellenica from Edizioni Colibris, Ferrara, in 2011. From the same publisher came Nove Lucenti Corpi Celesti (2017), a translation of Nine For the Nine Bright Shiners. La Hija De Safo, a spanish translation of Sappho's Daughter, was published by Poesía Hiperión, Madrid, in 2001.) In 2029, To Rodakio in Athens published Ellinika-Orfeas, a Greek language translation of Greek and Orpheus in a single volume.
His prose account of a transatlantic crossing under sail, Sailing For Home, was published by Penguin Ireland in 2004, and was subsequently re-published by Dedalus Press. In the same year, his libretto Jason and The Argonauts, to music by Howard Goodall, was commissioned by and premiered at The Royal Albert Hall, London — the text was published in book form by Wavetrain Press, Dublin, in 2014. A further prose book on sailing, Time on The Ocean, a Voyage From Cape Horn to Cape Town, was published by New Island, Dublin, in 2010. His novel, Making Way, was published by New Island Books in 2013.
He has edited: The The Great Book Of Ireland/Leabhar Mór Na Héireann (with Gene Lambert, 1991); REVISING THE RISING (with Máirín Ní Dhonnachadha, Field Day, Derry,1991); Irish Poetry Since Kavanagh(Dublin, Four Courts Press, 1996); Watching The River Flow (with Noel Duffy, Dublin, Poetry Ireland/Éigse Éireann, 1999); An Leabhar Mór/ The Great Book Of Gaelic (with Malcolm Maclean, Edinburgh, Canongate, 2002); The Book Of Uncommon Prayer (Dublin, Penguin Ireland, 2007), La Paume Ouverte (Dublin, Poetry Ireland/Éigse Eireann, 2010); What We Found There (Dublin, Dedalus Press, 2013). He was the editor of the collection of essays, Foundation Stone: Notes towards a Constitution for a 21st Century Republic (New Island Books, 2014). He has been series Editor European Poetry Translation Network publications and Director of the collective translation seminars from which the books arose.
A former Director of Poetry Ireland/Éigse Éireann, he has worked extensively as a broadcaster of literary programmes on both radio and television. He was presenter of Poetry Now on RTÉ Radio 1, and later presented RTÉ's TV books programme, Imprint. Among his awards are the Listowel Prize for Poetry, 1992, The O'Shaughnessy Prize for Irish Poetry 2010 and the Irish Times Poetry Now Prize in 2015. He served on The Arts Council / An Chomhairle Ealaíon 2003 -2008. He lives in Dublin.