Literature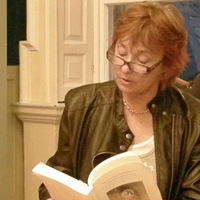 Mary Dorcey
The poet, short story writer and novelist, Mary Dorcey was born in County Dublin, Ireland.
In 1990 she won the Rooney Prize for Literature for her short story collection: 'A Noise from the Woodshed.' Her best selling novel'.' Biography of Desire (Poolbeg) was published to critical acclaim in 1997. She has published six volumes of poetry: most recently in 2017  'New and Selected Poetry.' (Six Volumes) Salmon Poetry. 'Perhaps the Heart is Constant After All.' 2012  Salmon Poetry. 'Like Joy in Season, Like Sorrow.' Salmon Poetry, 2001 and  'The River that Carries Me.' Salmon Poetry, 1995 'Moving into the Space Cleared by our Mothers.' (Poolbeg) ' (Salmon Poetry.) 1991 and 1995. 'Kindling.' Only Women Press, 1982.
Her novella, 'Scarlett O'Hara.' was published in 1990  in the anthology 'In and Out of Time.' Only Women Press.  Her short story, 'A Country Dance.' was published by 'The Women's Press.' and dramatised for the BBC 1990.  Her short story 'The Lift Home.' was published by 'Attic Press.' 1993.   'The Fate of Aoife and the Children of Lir.' Attic Press 1990. 'The Orphan'. published by Delta, Random House  1999. 'Another Glorious  Day.' Faber 2007.
Her work is  taught and researched Irish Studies. English Lit Studies, Women's Studies and Gay Studies. in Britain, Europe, the United States and Canada. It is discussed and cited in innumerable academic studies. Several theses have been published on her work and countless critical essays. Her poetry is taught on both the Irish Junior Certificate English course and on the British O Level English curriculum. Her stories and poetry have been widely anthologised since 1984 and are now included in over one hundred collections, most notably; The Field Day Anthology; The Penguin Book of Irish Fiction. The Picador Book of Irish Short Stories; The Faber Book of Best Irish Short Stories. The Virago Book of Short Stories by Women; The Bloomsbury Book of Women's Poetry; The Cambridge Book of Poetry by Women, etc.
Most recently, Thirty Years of Salmon (Salmon Poetry 2017)  "Washing Windows' 2016 Arlen House. 'Two Hundred Years of Hodges Figgis.' 2018.'The Deep Heart's Core.' Dedalus Press. 2017. Her poetry has been performed on radio and television (RTÉ and Channel 4), and has also been dramatised for the stage in Ireland, Britain and Australia ' In the Pink – The Raving Beauties.' and 'Sunny Side Plucked.'
Five major Literature Bursaries were awarded to her by the Irish Arts Council, in 1990, 1995, 1999, 2005 and most recently, in 2008. For thirty years, she has been a keynote speaker at festivals and conferences throughout  Europe, the United States, Europe, Japan, Britain  and Ireland.  She has lived in the United States, England, France, Italy, Spain and Japan. She is a Research Associate at Trinity College Dublin. She was writer in residence at Trinity College for the Centre for Gender and Women's Studies for many years where she held seminars in 20th century Women's Literature and led a Creative Writing course. She also taught for four years at University College Dublin.
Her latest book is 'Too Air the Soul Throw all the Windows Wide.' New and Selected Poetry.(Salmon Poetry 2017.)  She has this year completed a new book of novellas 'Othering: The Inside Story.'  She lives in County Wicklow.