Visual Arts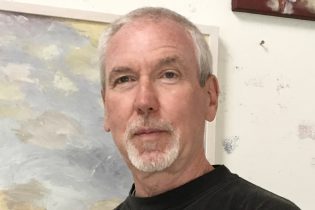 Micky Donnelly
Micky Donnelly was born in Belfast in 1952. He studied at the University of Ulster from 1976 to 1981 and received his BA and MA in Fine Art. Since then he has shown his paintings, drawings and installations in numerous solo and group exhibitions in Ireland, Britain, Europe, New Zealand, Japan, Mexico, Canada and America, and has been included in a number of high-profile international survey exhibitions of Irish Art.
He has received many awards and prizes, and has spent time working in Italy, the USA, and New Zealand. He was a founder member of Circa art magazine and has written about contemporary art for various publications.
His work is included in many private and public art collections in Ireland, Europe, and the USA, including the Irish Museum of Modern Art, the Ulster Museum, the Arts Council of Ireland, the Arts Council of Northern Ireland, the Arts Council of England, the British Council, and the European Parliament. He shows with the Fenderesky Gallery, Belfast, the Taylor Gallery, Dublin, and the Norman Villa Gallery, Galway.
More information is available on his website: www.mickydonnelly.com