Visual Arts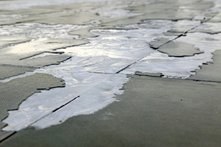 Catherine Delaney
Catherine Delaney was born in Dublin in 1965 and graduated from the NCAD in 1984.
She continued her study in sculpture at the Johnson Atelier in Princeton, New Jersey, USA. She obtained a scholarship to continue and further her study in the Akademie Der Bildenden Kunste, Munich in Germany in 1986 for another two years in the field of sculpture and photography.
She had her first solo exhibition in the Project Arts Centre in 1994 entitled 'Rib By Rib'. She was selected for EAST International in 1996 in the Sainsbury Centre in Norwich in the UK, by selectors / artists Richard Long and Roger Ackling for her large off-site installation of The Bridge which was installed in a disused Watermill in County Kilkenny.
One of her most recent large scale public art works, commissioned by Breaking Ground for Ballymun Regeneration consisted of 2,500 square feet of the pooling of poured silver aluminium which had been cast and embedded into the ground.
Her work is represented in numerous public and private collections in Ireland, the U K and the United States.