Literature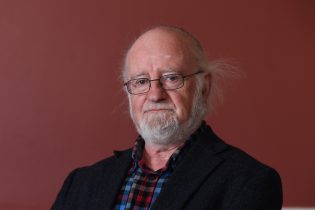 John F. Deane
John F. Deane was born on Achill Island in 1943. He founded Poetry Ireland – the National Poetry Society – and The Poetry Ireland Review, in 1978.
He has published several collections of poetry and some fiction. He won the O'Shaughnessy Award for Irish Poetry, the Marten Toonder Award for Literature and poetry prizes from Italy and Romania. He was shortlisted for both the T.S.Eliot prize and The Irish Times Poetry Now Award, and won residencies in Bavaria, Monaco and Paris.
His poetry collection The Instruments of Art came from Carcanet in 2005; In Dogged Loyalty, essays on religious poetry, Columba 2006, and From The Marrow-Bone, also from Columba, 2008. His latest short story collection The Heather Fields and Other Stories, came from Blackstaff Press 2007. A poetry collection, A Little Book of Hours, Carcanet 2008, of which David Morley wrote, in Poetry Review: "These are beautiful, solemn, gravid poems, best read aloud for, like John Tavener, Deane has to be heard to be believed".
He is a member of Aosdána, the body established by the Arts Council to honour artists "whose work had made an outstanding contribution to the arts in Ireland". In 2007 the French Government honoured him by making him "Chevalier de l'ordre des arts et des lettres". In 2008 he was visiting scholar in the Burns Library of Boston College.
In October 2010, a new novel, Where No Storms Come, was published by Blackstaff Press and in December Columba Press published a book of essays, The Works of Love, a study of poetry, ecology and Christianity. A new poetry collection, Eye of the Hare, was published by Carcanet in June 2011. A New and Selected Poems, titled Snow Falling on Chestnut Hill was published by Carcanet in October 2012, and in March 2015, Columba Press published a unique memoir, Give Dust a Tongue: A Faith and Poetry Memoir.
May 2015 saw the publication of another collection of poetry, from Carcanet, entitled Semibreve. 2016 saw the publication of a new collection, from Carcanet, Dear Pilgrims. In 2011 he was awarded the Golden Key of Smererevo award, a Serbian prize given annually for a body of poetry and in the same year the Laudomia Bonanni International Award organized in l'Aquila, Italy.
In April, 2012, he was Distinguished Visiting Scholar in Suffolk University, Boston, USA. In the Fall semester of 2016 he was Teilhard de Chardin Fellow in Loyola University, Chicago. He has recently edited 8 issues of Poetry Ireland Review, and is a contributing editor to Poem.