Visual Arts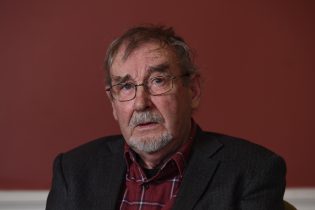 Charles Cullen
Born in Longford in 1939, Charles Cullen studied at the National College of Art and then worked in Spain before returning to Dublin, where he was a founder member of the Project Arts Centre. He taught at the National College of Art & Design, lecturing in fine art, and serving as head of the painting department until 2000.
He has participated in many group exhibitions, including Making Sense, Project Arts Centre (1980); The Delighted Eye, Orchard Gallery, Derry, and London (1980); Temple Bar Gallery, Dublin (1984); Living Art and The Decade Show, Guinness Hop Store, Dublin; Wyvern Gallery, Dublin (1990); and Rubicon Gallery, Dublin (1991). Solo exhibitions include the Carroll Gallery, Dublin (1986); and the David Hendriks Gallery, Dublin (1987). In 1997, the Hugh Lane Municipal Gallery in Dublin held a retrospective of his work.
In 2002, he collaborated on a book with the poet Vincent Woods, and he is currently working on a series of etchings based on the "Nighttown" episode of Joyce's Ulysses.
His commissions include many portraits and murals, and the Stations of the Cross in Iniskeen, Co. Monaghan. His work is held by the Hugh Lane, Allied Irish Banks, the Arts Council and Trinity College, Dublin.