Literature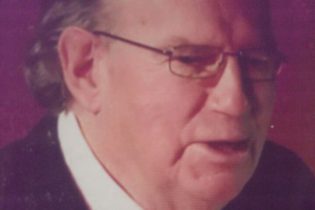 Anthony Cronin
Anthony Cronin was born in Enniscorthy Co Wexford, and he attended UCD and the King's Inns. His many volumes of poetry include the long poems RMS Titanic, Reductionist Poem and The End of the Modern World, of which the final version appeared in 2016. Collected Poems appeared in 2004.
His most recent uncollected publications are The Fall (2010) and Body And Soul (2014). His novels are the brilliantly comic The Life of Riley and Identity Papers. His memoir of literary Dublin and London, Dead As Doornails, has been re-issued in many editions since its first publication in 1976 and his No Laughing Matter and The Last Modernist are definitive biographies of Flann O'Brien and Samuel Beckett.
His critical books include A Question of Modernity (1964) and Heritage Now, Irish Literature in the English Language (1981). Other collections of essays include An Irish Eye, a selection of essays from his celebrated column in The Irish Times from 1974 to 1987, Art for the People? (1988) and anthologies of his popular poetry column in The Sunday Independent.
A play, The Shame of It, was produced at the Peacock in 1974. He has been Associate Editor of The Bell and Literary Editor of Time and Tide, taught at Drake University and the University of Montana and was Adviser on Arts and Culture to Taoiseachs Charles J Haughey and Garret Fitzgerald.
He received numerous Honorary Doctorates and was elected a Saoi of Aosdana in 2004.
Statement by the Toscaireacht on the passing of Anthony Cronin.
Anthony Cronin was a poet. That is how he wanted to be remembered primarily. But as the moving spirit in the foundation of Aosdána, he was also one of the most significant figures in Ireland's cultural history. He raised the public standing of the arts and, most especially, of the artist, to a level that no one of his generation would have thought possible. In part this was due to his understanding of history – in the 19th century a poet of genius like James Clarence Mangan lived and died beyond the notice of the state; in part it was due to his indignation that another poet of genius, Patrick Kavanagh, as well as many of Kavanagh's contemporaries in other arts, such as the composer Frederick May, were reduced to poverty and treated as little better than outlaws.
As Anthony Cronin dies there are many artists today in Ireland who can live and work in their native land because of what he did for them.
As a poet Cronin's work was as complex and as strong-willed as the man. Although he was born in 1928 when W.B. Yeats was at the height of his career, he was not Yeatsian, except in his commitment and devotion to the art of poetry. His influences were mainly English – the 19th century was close to his heart, in the work of Matthew Arnold, and he learned a great deal, especially about irony and common speech, from the work of W.H. Auden. He was always open, too, to the work of poets younger than himself, such as Dermot Bolger, whom he helped to establish the Raven Arts Press in Finglas. For Cronin social and political obligations were basic to the being of a poet. His long poem 'RMS Titanic' was written because he saw in that great ship a condensed symbol of the class structures of society and, perhaps, a hopeful sign that its inequalities could be diminished in the future. Even in the last year of his life he was giving readings of 'RMS Titanic' with his Aosdána colleague Donal Lunny, who had set the poem to music.
Like most true poets, Anthony Cronin's work was deepened by age. In his last four books, 'Collected Poems' (2004), 'The Fall' (2010), 'Body and Soul' (2014) and the revised and expanded version of 'The End of the Modern World', published earlier this year, he wrote with a new tenderness of his love for life and for his fellow human beings.
There is much else to be celebrated in his career as a writer, critic and cultural activist. As well as two novels, 'The Life of Riley' and 'Identity Papers' – which are essentially part of his autobiography – he produced two invaluable literary biographies, 'Samuel Beckett: The Last Modernist' (1996) and 'No Laughing Matter: The Life and Times of Flann O'Brien' (2003). Had he done nothing else, the Beckett biography would have secured him a lasting place among the ranks of literary historians, while the Flann O'Brien book opened the way towards a proper appreciation of the writer – both biographies depend on Cronin's understanding of the Irishness of their subjects.
Cronin's friendships with another two literary giants, Patrick Kavanagh and Brendan Behan, are immortalised in his memoir, 'Dead as Doornails' (1976). As the editor of 'The Bell' and as an influence on 'X' magazine in London, under the pseudonym Martin Gerard, he helped to bring to notice writers like John McGahern and the painters Patrick Swift and Robert MacBryde. In his long-running column for The Irish Times he set the tone for a great deal of the intellectual debate in Ireland during the 1970s, as did his many subsequent contributions to The Sunday Independent, particularly his weekly choice of a favourite poem for readers since 2002. He also played a significant role in the National Gallery, where he was for many years Chairman of the board, and in the establishment of the Irish Museum of Modern Art and the Heritage Council.
In Aosdána, of course, he has been, since its foundation in 1981 and its formal establishment in 1983, the guiding light. It was a sign of the respect in which he was held by his colleagues that they elected him their first Saoi (the highest honour for an Irish artist) in 2003, and they unfailingly elected him to serve on the Toscaireacht, the executive committee of Aosdána, every two years – most recently in February 2016. Although he was by then already in failing health he continued as best he could to promote, protect and defend the institution that, like his poetry, survives as his monument.
His fellow Toscairí send their sympathies to his wife, the writer Anne Haverty, and to his daughter Sarah.
28 December 2016