Visual Arts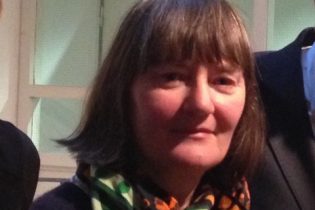 Maud Cotter
Born in Wexford in 1954, Maud Cotter studied at the Crawford College of Art in Cork, where she co-founded the National Sculpture Factory in 1989. She recently returned to Ireland from London – where she had a studio at Delfina Trust from 1992 to 1997 – and took up a residency through the Irish Museum of Modern Art's artists' work programme, which she completed in 1999.
Her sculptures have been exhibited in Ireland and abroad since the early 1980s, most recently in solo shows at the West Cork Arts Centre (2002) and the Rubicon Gallery, Dublin (1998, 2002), in the 0044: Irish Artists in Britain group show (1999) and in the Something Else: Contemporary Art from Ireland group exhibition, which will travel to Finland in 2002-2003.
Her early pieces were usually from glass and steel, while more recently she has used cardboard, industrial rubber and clear plastic. She uses those materials to help explore issues of definitions and boundaries, containment and space.
Major public commissions include a series of sculptures for the Royal Victoria Hospital in Belfast (2001); Four Clouds Approaching for the Law Society, Dublin (2000); and Absolute Jellies Make Singing Sounds, an outer door of the Green Building in Temple Bar (1994).
A member of the Arts Council, she lives in Cork.