Music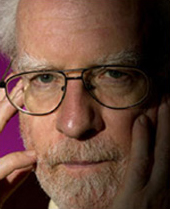 Frank Corcoran
Born in Tipperary in 1944, Frank Corcoran studied at Dublin, Maynooth, Rome and Berlin. He was a music inspector for the Irish government Department of Education from 1971 to 1979, after which he took up a composer fellowship at the Berlin Künstlerprogramm. In the 1980s, he taught in Berlin, Stuttgart and Hamburg, where he was professor of composition and theory in the Staatliche Hochschule für Musik und darstellende Kunst. He was a visiting professor and Fulbright scholar at the University of Wisconsin-Milwaukee in the U.S. in 1989-1990, and was a guest lecturer at CalArts, Harvard University, Princeton University, Boston College, New York University and Indiana University.
His output includes chamber, symphonic, choral and electro-acoustic music, through which he explores particularly Irish issues like language and history. He has worked with text by the poet Seamus Heaney, in the chamber piece Mad Sweeney, 1996, and by the Irish-language writer Gabriel Rosenstock. His works have been performed and broadcast in Europe, Asia, USA, Canada and South America. He has been commissioned by NDR, RTÉ, the Arts Council, U.W.M., Sender Freies Berlin, W.D.R., Deutschlandfunk, North South Consonance New York, Dublin Living Music Festival, Cantus Chamber Orchestra Zagreb, Dublin Festival of Twentieth Century Music, AXA International Piano Competition, Wireworks Hamburg, Slí Nua, RTÉ lyric fm, Now U Know Washington, New Music Boston, Carroll's Summer Music, Book of Kells U.W.M., Crash Ensemble, Hamburg Ministry of Culture, Tonhalle Düsseldorf, Stuttgart Bläserquintett, the Irish Chamber Orchestra and the National Chamber Choir of Ireland.
Recent commissions include:
Variations On Myself  for Chamber Orchestra, New York 2013
Trio for Guitar, Viola and Flute, Cardiff 2013
Quasi Un Gran Duo for Harp and Cello, Dublin  2013
Piano Trio, Zagreb Biennale 2013
Violin Concerto, RTÉ NSO/Alan Smale/Christopher Warren-Jones 2012
Clarinet Quintet, RTE 2009
4 Orchestral Prayers for Mezzosoprano and Orchestra, N.S.O 2010
Quasi una Sarabanda, Swiss Ensemble "Antipodes" 2009
9 Pratoleva Pearls, Andreas Skouras 2009
Quasi Una Fuga for String Orchestra, Shannon Festival Limerick 2007
RTÉ commission 2005 Quasi Una Visione for Orchestra, Ensemble Modern premiered at the Living Music Festival, Dublin
Quasi un Lamento for Chamber Orchestra, RTÉ NSO Horizons Concert 2005
Quasi Un Pizzicato for Large Ensemble, Wireworks Ensemble Hamburg 2004
Quasi Un Canto for Large Orchestra, Zagreb Philharmonic at the 2005 World Music Days, Zagreb
Cello Concerto, RTE NSO, Martin Johnson, Kenneth Montgomery, cond., 2015
Quasi Una Storia for String Orchestra, North South Orchestra , Max Lifchitz cond., New York 2016
Piano Trio, Bolsena 2017, Pratoleva Trio
Hot Dialogues for Piano and Viola, Orvieto 2018, Pratoleva Duo
String Quartet, Dublin Festival of New Music 2019, RTE Con Tempo Quartet
Clarinet Concerto, New York 2019, North South Chamber Orchestra, cond. Max Lifchitz, soloist Sammy Lesnick.
His Joycepeak Music won the StudioAkustischeKunst Prize, Cologne Radio, in 1995. In 1999, his piece Sweeney's Vision won first prize at the Bourges International Electro-acoustic Music Competition and his Quasi Una Missa won the 2002 EMS Prize, Stockholm. Seán Ó Riada Composer Prize, Cork International Choral Festival, 2012. His EIGHT HAIKUS for Large Choir won First Prize Outright in the 2013 International Foundation for Choral Music. 2019  Dublin Festival Music Currents Major Respective of Frank Corcoran's prize-winning electro-acoustic works of the nineties in Smock Alley Theatre:
Sweeney's Vision, a WDR  commission which won the Premier Prix at the 1999 Bourges Festival.
Quasi Una Missa, also a WDR commission which won the Swedish E.M.S. Prize 2001.
Tradurre Tradire, a Deutschlandfunk 2002 commission.
He is the first Irish composer to have his symphony premiered in Vienna. (Frank Corcoran´s Symphonies of Symphonies of Wind was premiered by the O.R.F. Symphony Orchestra / Lothar Zagrosek there in 1981) . He is a founding member of Aosdána. He lives in Hamburg.
For further information visit: www.frankcorcoran.com
DISCOGRAPHY
Mad Sweeney (Black Box Bbm 1026) including "Mad Sweeney" for Speaker and Ensemble, NDR recording: das neue Werk Ensemble: Frank Corcoran: speaker; Dieter Cichewiecz, conductor)
Music for the Book of Kells (percussion modern, Frank Corcoran: piano; Dieter Cichewiecz: conductor)
Wind Quintet No. 2 (Stuttgarter Wind Quintet)
Sweeney's Vision (electro-acoustic, WDR commission)
Strings Astray (Black Box Bbm 1013. Irish Chamber Orchestra, Cond. Fionnuala Hunt, including Frank Corcoran: IRISH MIKROKOSMOI- "Scenes From My Receding Past")
Frank Corcoran : Symphonies 2,3 and 4. ( Marco Polo 8.225107. National Symphony Orchestra of Ireland, Conductor Colman Pearce)
Frank Corcoran Sweeney's Vision ( Wer 6307.2 "Riverrun" )
Frank Corcoran Sweeney's Vision ( BOURGES 1999. Imeb-Bourges 13 )
Frank Corcoran Trauerfelder – Goirt an Bhróin ( " Neues aus der Milchstrasse"- Peer Verlag Hamburg).
Col Legno CD Mad Sweeney´s Shadow 2003.
Quasi Una Missa, Piano Trio, Balthazar´S Dream, Rosenstocklieder, 3. Wind-Quintet, Sweeney´s Farewell
2005 Swedish CD CAP 22057 Mad Sweeney
2005 Cantus CD 020 Quasi Un Concertino
2005 Composers´Art Label CD Sweeney's Smithereens including Sweeney's Smithereens, 5 Trauerfelder, Tradurre/Tradire, Concerto For String-Orchestra, 5 Songs Without Words
2006 Composers' Art Label CD Quasi Una Music, including Quasi Una Visione for Orchestra, 9 Aspects of an Irish Poem for Choir and Solo Violin, Ice-Etchings for Solo Cello, Quasi Un Pizzicato for Ensemble, Sprecher and Soprano, Quasi Variations On 'A Mháirín De Bharra" for Solo Viola, Quasi Un Concerto for Chamber Orchestra.
Rhapsodic Celli RTE Lyric Fm CD, incl. NSO / Gavin Maloney cond., Martin Johnson soloist Cello Concerto, Rhapsodic Bowing for 8 Celli ( Cellists of the NSO ), DUETTI IRLANDESI for Cello and Piano ( Fergal Maloney , Piano , and Martin Johnson, Cello ), Rhapsodietta Joyceana ( Martin Johnson ).