Music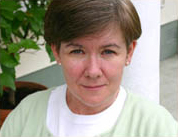 Rhona Clarke
Rhona Clarke was born in Dublin. She studied music at University College, Dublin, completed a Ph.D at Queen's University, Belfast. She is a lecturer in music at St Patrick's College, Dublin City University.
Her output includes choral, chamber, orchestral and electronic works. She has received commissions from RTÉ, the Cork International Choral Festival, Concorde, Music Network and the National Concert Hall, among others. Her work has been performed and broadcast throughout Ireland and worldwide.
Recent works include con coro for violin, cello and tape commissioned and performed by Concorde in 2011 as part of their Up Close With Music series and also performed in Chicago by the Palomar Ensemble. Relic (2011) is collaboration with visual artist Marie Hanlon; this is a non–narrative film with music, based on the landscape of the Burren area in the west of Ireland.
She has also written a new orchestral work commissioned by the RTÉ National Symphony Orchestra, and a piece for the Society of Recorder Players performed as part of their 2013 Festival.