Visual Arts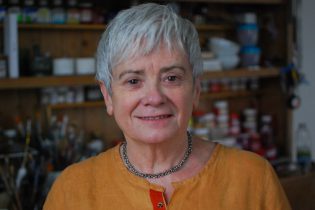 Cathy Carman
Cathy Carman, who graduated from NCAD, is widely acclaimed for her large figurative work in wood stone and bronze. Her expressionist style is also evident in the many public commissions she undertook in the 1990s, notably at the:
Blasket Island Visitors Centre, Dingle,
St Killian Deutche School Dublin
Parnell Street,Summerhill, Dublin Corporation
Col. James Fitmaurice.Laois
Sligo County Council offices, Riverside, Sligo
Tullamore Garda Station
Castlerea Prison, Roscommon
Drumcoora Drumshambo, Co Leitrim
NS School Naomh Eoin Laois
Teagasc, Oak park, Carlow
She continues to exhibit regularly, both in group and solo shows both in Ireland and abroad, and while her more recent work has used digital imaging, natural materials, found objects and sound to contextualise and counterpoint the figure, she nonetheless remains an advocate of the human form as the ultimate in narrative possibility for her work in sculpture.
Among those holding work by Cathy Carman in public collections are: The European Parliament, The Irish Arts Council, The Bank of Ireland Collection, Dublin County Council, Allied Irish Banks, The County Hall, Laois,  Standard Life Insurance Company, The National Self-Portrait Collection, The Tyrone Guthrie Centre, and Sligo County Hall.
Website: cathycarman.com