Literature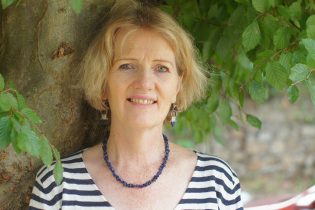 Moya Cannon
Moya Cannon is a poet.  Her 'Collected Poems', published by Carcanet Press, Manchester (2021), brings together poems from six previous collections, 'Oar'(1990), 'The Parchment Boat' (1997), 'Carrying the Songs' (1907), Hands (2011), 'Keats Lives' (2015) and 'Donegal Tarantella' (2019).
Born in Dunfanaghy, Co. Donegal, the imagery of many of her poems reflects the moods and rhythms, the seascapes and mountains of the northwest and west of Ireland. The poems also travel further afield — at the heart of her work is migration, the migration of birds, of people, of language and of culture.   Archaeology and geology figure, too, as gateways to a deeper understanding of our mysterious relationship with the natural world and our past. Music has always been a deep interest and she enjoys giving readings with musicians and singers.
She has been invited to read in Ireland, Europe, in the Americas, North and South, in Japan, China and India. Bilingual selections of her work have been published in Spanish, Portuguese and German.
She studied history and politics at University College, Dublin (B.A.) and International Relations at Corpus Christi College, Cambridge.
A recipient of the Brendan Behan Award and the O'Shaughnessy Award, she was 2011 Heimbold Professor of Irish Studies at Villanova University.  She has been editor of Poetry Ireland Review and director of the International Writers' Course at NUIG Galway.