Visual Arts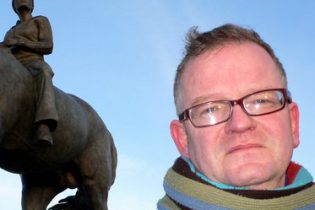 John Byrne
Born in Belfast in November 1959, John Byrne now lives in Dublin. He works in multi-media and performance with a background in public art. He attended the Art College in Belfast and then The Slade School in London (1984-86) after which he developed a body of work through performance culminating with his stint as Director of "The Border Interpretative Centre" (2000), a short lived Visitor Centre and gift shop on the main Dublin / Belfast Road. His video "Would you die for Ireland" (2002) initially presented in Kilmainham Gaol, involved the mic-wielding artist putting the emotive question to passers by on the streets of Dublin, Cork and Belfast. Those confronted also included members of the Defence Forces, Gardaí, The Orange Order and the then Taoiseach Bertie Ahern.
Since returning to Ireland in the mid nineties he has completed a number of other high profile projects including, Dublin's Last Supper a large permanent photo work on enamel panels ('Italian Quarter' 2004) Misneach a huge plinth-mounted bronze Equestrian Monument based on the Gough Memorial incorporating a local teenage girl in a tracksuit (Trinity Comprehensive, Ballymun 2010) and Casting Light a spectacular durational architectural video projection onto the façade of the Ulster Bank in Cavan (2010/11)
Good Works (2012/13) saw a return to performance with this collaborative piece with choirs (singing 9 'Art Hymns' composed by the artist) readers and other performers in Cavan Cathedral and subsequently performed in the chapel at IMMA. In 2016 he installed his provocative and humorous Peep in The Centre Culturel Irlandais, Paris. This work was subsequently shown in solo exhibitions in the Lab, Dublin and Garter Lane Gallery, Waterford and in the group show Disrupters (May-June 2019) John has exhibited, performed and presented his work extensively throughout Ireland and internationally. He is currently working on a major pubic art project for Fingal County Council's 'Infrastructure' programme.
He was elected to Aosdána in 2015
www.john-byrne.ie