Literature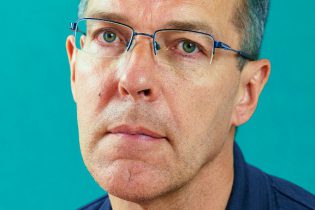 Pat Boran
Pat Boran was born in Portlaoise in 1963 and has long since lived in Dublin.
Since receiving the Patrick Kavanagh Award for Poetry in 1989 he has published seven full-length collections of poetry. Those books are: The Unwound Clock (1990), Familiar Things (1993), The Shape of Water (1996), As the Hand, the Glove (2001), The Next Life (2012), Waveforms: Bull Island Haiku (2015) and Then Again (2019). His New and Selected Poems, with an introduction by the late Dennis O'Driscoll, was first published in 2005 and reissued by the Dedalus Press in 2007 since when editions have appeared in Italian, Hungarian and Macedonian translation. In 2017 Orange Crate Books published A Man Is Only As Good: A Pocket Selected Poems, updating and revising that earlier New and Selected in a pocket-sized format. Selected Poems have been pubished in Hungarian, Italian and Portuguese among other languages.
In addition to poetry he has published numerous short stories in magazines and on radio. A collection, Strange Bedfellows was published in 1991 while a short fiction title for children, All the Way from China (1999), was a finalist for the Bisto Book of the Year Award. His non-fiction titles include the humorous memoir, The Invisible Prison: Scenes from an Irish Childhood (2009), the writers' handbook The Portable Creative Writing Workshop (various editions) and A Short History of Dublin (2000).
A former editor of Poetry Ireland Review, he has edited multiple poetry anthologies and publications, among them: Wingspan: A Dedalus Sampler (2006), Flowing, Still: Irish Poets on Irish Poetry (2009), The Bee-Loud Glade (2009), Shine On, Irish writers in support of those affected by mental ill-health (2011), with Gerard Smyth If Ever You Go: A Map of Dublin in Poetry and Song (2014), the One City, One Book designated title for that year; with Eugene O'Connell the poetry and prose anthology The Deep Heart's Core: Irish Poets Revisit A Touchstone Poem (2017) and, in 2020, The Word Ark: A Pocket Book of Animal Poems, illustrated by Gaetano Tranchino.
He has held a number of positions as Writer-in-Residence with public libraries/authorities and third level institutions, with the Western Education and Library Centre in Enniskillen, Co. Fermanagh, with Dublin City Council and at Dublin City University. He is a former Programme Director of the Dublin Writers Festival, a former presenter of both The Enchanted Way and The Poetry Programme on RTÉ Radio 1, and continues to contribute to a number of programmes on the station, including the highly popular Sunday Miscellany.
He has conducted writing workshops throughout Ireland and has represented Ireland at poetry and literature festivals abroad. He has reeived a number of Arts Council Bursaries and travel awards and was the 2008 recipient of the US-based Lawrence O'Shaughnessy Poetry Award.
His recent poetry practice includes the production of short films of new and existing poems and the online publication of poem/photo combinations in virtual poetry postcards formats. Both of these, and exerpts of other work, can be found at www.patboran.com.