Literature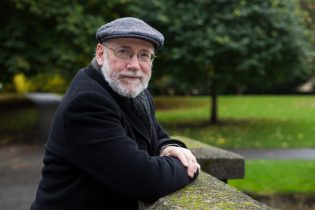 Dermot Bolger
Born in Dublin in 1959, Dermot Bolger's fourteen novels include Night Shift, The Woman's Daughter and The Journey Home that each chart a different decade of working-class Dublin life. More recent explorations of contemporary Ireland include The Valparaiso Voyage, Tanglewood, The Fall of Ireland and The Valparaiso Voyage.  His historical novels include The Lonely Sea and Sky, and two linked novels –The Family on Paradise Pier and An Ark of Light. He also devised the best-selling collaborative novels, Finbar's Hotel and Ladies Night at Finbar's Hotel, with chapters written anonymously by different Irish writers.
His first play, The Lament for Arthur Cleary, received the Samuel Beckett Award. Other plays include In High Germany, The Holy Ground, April Bright and The Parting Glass. His three standalone plays, known as The Ballymun Trilogy, explore social changes over forty years in a Dublin suburb, from its creation as high-rise tower block complex to its regeneration as a modern suburb. His play Walking the Road, is a re-imagining of the life and death of another poet Francis Ledwidge: a road worker and Irish nationalist killed during the Third Battle of Ypres.
His stage adaption of Joyce's Ulysses, directed by Andy Arnold for a Tron Theatre, Glasgow, toured Ireland, Scotland and China. He revised his text for a new production, directed by Graham McLaren, staged by the Abbey Theatre during the 2017 Dublin Theatre Festival. His latest play, Last Orders at the Dockside, premieres at the Abbey Theatre during the 2019 Dublin Theatre Festival.
In 2015 he published That Which is Suddenly Precious, a New and Selected Poems distilled from nine previous collections including his 2012 sequence, The Venice Suite: A Voyage Through Loss.
At eighteen he established Raven Arts Press, which became one of Ireland's most innovative publishing houses. In 1992 he closed Raven to co-found New Island Books, now one of Ireland's leading publishers. He has edited numerous books, including The Picador Book of Contemporary Irish Fiction.
He was Writer Fellow in Trinity College Dublin, Playwright in Association with the Abbey Theatre and Writer in Residence at the National Museum of Ireland. He was named Commentator of the Year at the 2012 Irish National Newspapers Awards.