Visual Arts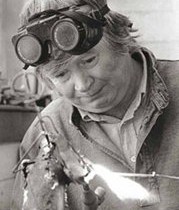 John Behan
Born in Dublin in 1938, and now living in Galway, John Behan studied at the National College of Art & Design, Dublin; Ealing Art College, London; and the Royal Academy School, Oslo. He helped establish the Project Arts Centre in 1967 and the Dublin Art Foundry in 1970. Beginning in the 1960s he exhibited in major group shows such as the Irish Exhibition of Living Art, the Royal Hibernian Academy and the Oireachtas; in addition, he has had frequent solo shows in Ireland and abroad, all combining sculpture and drawing.
The Office of Public Works commissioned Arrival, a bronze sculpture of a famine ship, seven metres long and eight metres high, with 150 bronze figures on deck and disembarking, for presentation to the United Nations by the Government of Ireland in 2000. The piece mirrored his Famine Ship, the national famine memorial at the base of Croagh Patrick in Murrisk, Co. Mayo, which was unveiled by President Mary Robinson in 1996.
Other major commissions include Flights of the Earls Monument, Rathmullen, Co Donegal (2007), Millennium Child for Barnados which was cast in a limited edition of 100; Wings of the World in Shenzhen, China (1992); Megalithic Memories, Allied Irish Banks headquarters, Dublin (1982); Cúchulainn Relief Panels, Gresham Hotel (now in Dublin Institute of Technology Kevin Street), 1970.
He was a member of the Arts Council from 1973 to 1978 and was conferred as a Doctor of Literature by NUI Galway in 2000.