Visual Arts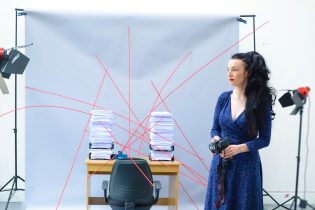 Aideen Barry
Aideen Barry is a visual artist with a national and international profile who's means of expression are interchangeable, incorporating: film, performance, drawing, sculpture, installation, sound, text and lens based media.
Her work is predominately preoccupied with ideas of otherness, and what Freud coined Das Unheimliche. She uses psychological ploys of cognitive dissonance to disarm the viewer with slapstick humour as a way of discussing intensely personal and provoke alternative perspectives on dark subject matter: mental illness, oppression and patriarchy.
Selected solos and manifestations of her practice include presentations at: The Katzen Centre (Washington DC), Museo y centro de arte contemporáneo de Málaga, The Butler Gallery, Mothers Tankstation, The Irish Museum of Modern Art, The Royal Hibernian Academy, Crawford Municipal Gallery, Louise T. Bloudin Gallery, London, Moderne Mussett, Sweden, Loop Biennale Barcelona, The Wexner Centre, USA, The Banff Centre, Canada, The Headlands Centre for the Arts, US, Liste Art Fair, BAC Geneva and Catherine Clark Gallery, US.
Her works are in national collections such as The Arts Council of Ireland, The OPW, Trinity College Dublin and internationally at Art OMI, The Banff Centre Canada, Museu de la Garrotxa, Catalonia, National Center for Contemporary Art (CNAC) & CEDOC, Chile and CAC Malaga, Spain.
She has received numerous awards for her practice from the Arts Council Project Awards, Culture Ireland Awards, the Royal Irish Academy: Modern Ireland in 100 Artworks award, Silent light film award and shortlist for the AIB Prize. She has recently was awarded the prestigious Myron Marty Lectureship at Drake, Iowa in 2019.