Visual Arts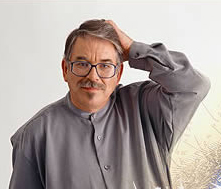 Robert Ballagh
Born in Dublin in 1943, he studied architecture and worked as an engineering draughtsman, a musician and a postman before taking up painting in 1967. He represented Ireland at the Paris Biennale in 1969, and at graphic exhibitions in Florence, Ljubljana and Tokyo. His paintings are held in collections including the National Gallery of Ireland, the Ulster Museum, the Hugh Lane Municipal Gallery, and the Albrecht Dürer House, Nuremberg. Major survery exhibitions of his work have taken place in Lund, Warsaw, Sofia and Dublin.
Due to the difficuley of earning a living in Ireland through painting alone, early in his career, Ballagh began to widen his range of work. As a graphic designer he has produced over 70 stamps for An Post, the final series of Irish banknotes before the introduction of the euro, and numerous murals, posters, limited prints and book covers.
His notable work in the theatre includes set design for I'll Go On, Gate Theatre (1985); the Riverdance company; Samuel Beckett's Endgame, Gate Theatre (1991); Steven Berkoff's production of Oscar Wilde's Salomé, Gate Theatre, Dublin (1998)and the staging for the opening ceremony of the Special Olympics in Croke Park, Dublin (2003).
He exhibited a series of imaginary landscapes at the Irish Arts Centre in New York (2002). For 10 years, he chaired the Irish National Congress, a non-party organisation working for peace in Northern Ireland, and he is currently president of the Ireland Institute, a centre for historical and cultural studies.
He served as the first chairman of the Artists' Association of Ireland when it was founded in 1981, and he is a fellow of the World Academy of Art and Science. He married Elizabeth Carabini in 1967 and they have two children, Rachel and Bruce and they continue to live in Dublin's inner city.