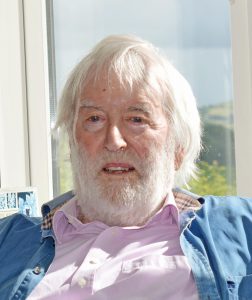 Poet and playwright Tom MacIntyre passes away 30 October 2019, aged 88.
Arts Council Chair Professor Kevin Rafter said
"Tom was a powerful force in Irish Theatre, his love of language created works that were of unequalled meditation and beauty and belong among the greats of the south-Ulster poets: Cathal Buí Mac Giolla Ghunna, Peadar Ó Doirnín and Séamas Dall Mac Cuarta. He delighted in the spoken and written word and over the years his body of work is a careful documentation of the evolution of our language and our culture. A firm believer in ghosts and spirits, we will remember and miss him this Samhain eve."
MacIntyre's work, his poems and plays in both English and Irish, are hewn from the Cavan literary tradition, where he was born in Bailieborough in 1931. Self-proclaiming himself to be a writer from the age of 7, he consciously followed in Swift and Sheridan's footsteps, "who had traipsed across the same hills, under the same dark clouds, in their time." The landscape, its sounds and shapes reverberate through his work and created a body of raw and brutal, but humorous work. While MaIntyre's work often rails against the fate of a border county, divided along sectarian lines which he said was responsible for asphyxiating young and old alike, it equally delights in the uniqueness off its dual language, celebrates its story telling and the beauty of its haunted landscapes.
Prize winning author of nineteen plays, many of which had their debut at the Abbey theatre, including The Great Hunger directed by Patrick Mason, Rise Up Lovely Sweeney, What Happened to Bridgie Cleary, Sheep's Milk on the Boil and The Gallant John-Joe written for and performed by Tom Hickey. MacIntyre also published two novels, six collections of poetry, including 'Stories of the Wandering Moon', and selected writings entitled 'The Word for Yes'.
MacIntyre's career started out playing football for his county in 1952 and again in 1957 before becoming a teacher in Clongowes Wood College, in Michigan University and in Williams College, Massachusetts. He received his Master's Degree in University College, Dublin. He described writing as the choice to cross to the lonesome side of street, to leave the collective and find your individual voice. For MacIntyre this was an imperative.
"It's a way of breathing, it's a way of being, it's a way of praying. It's a journey, an interior journey of no trivial proportions. It's probably true to say…for me it's a soul journey."