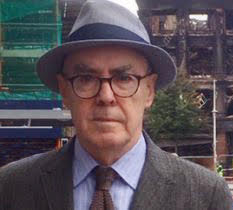 Ciaran Carson passes away 6 October 2019.
Speaking today, Arts Council Chair, Professor Kevin Rafter, says:
"It is with immense sadness that we learned of Ciaran Carson's death. He was a writer of extraordinary talent, imagination and range. While known primarily as a magnificent and prolific poet, his prose work was equally exceptional – as was his work in translation. In addition to his many gifts as an artist, he was also a wonderful teacher, a terrific encourager of readers and writers."
Professor Rafter added.
"He was witty and wise, and his commitment to the word on the page was there to his final days. He will be profoundly missed."
Ciaran Carson's latest and last poetry collection Still Life is due to be published October 2019.
Born in Belfast in 1948, Ciaran Carson studied at Queen's University and served as literature officer of the Arts Council of Northern Ireland.
His poetry collections have won numerous awards: The New Estate won the Eric Gregory Award in 1978; The Irish for No won the Alice Hunt Bartlett Award in 1987; in 1989, Belfast Confetti won the Irish Times/Aer Lingus Award for Irish Poetry, the Ewart-Biggs Prize, the Irish Book Award and was shortlisted for the Whitbread Prize; in 1993, First Language won the inaugural T.S. Eliot Prize; and Opera Et Cetera (1996) was a Poetry Book Society Choice.
In 1998 he published The Alexandrine Plan, adaptations of sonnets by Baudelaire, Mallarmé, and Rimbaud. Two collections, The Twelfth of Never and The Ballad of HMS Belfast, were published simultaneously in 1999, as was Fishing for Amber, a prose meditation.
He was an accomplished musician, and in 1986 he published The Pocket Guide to Irish Traditional Music and, on the same subject, Last Night's Fun. He published a novel, Shamrock Tea, in 2001, and a new translation of Dante's Inferno in 2002.