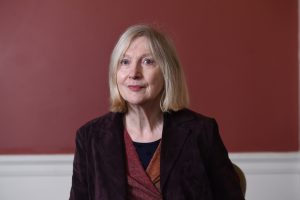 The Arts Council has expressed its regret at the death of the visual artist and Aosdána member Veronica Bolay.
Arts Council Chair Prof. Kevin Rafter, said: "Veronica Bolay is rightly celebrated as an artist who contributed so much to the visual arts in Ireland from the time of her arrival here in the early 1970s. Throughout her career she was strongly inspired by landscape and the world around us creating impactful work that was both evocative and atmospheric. She will be sadly missed."
Born in Hamburg, Germany in 1941, Veronica Bolay studied painting and costume design in the National College of Art and Design in Hamburg and group-therapy in Aachen University. She moved to Ireland in 1971, living in Mayo and Dublin.
Bolay featured in the highly-regarded exhibition of women artists at the Project (gallery) in Dublin in 1978, exhibiting alongside Camille Souter and the late Mary Farl Powers. She participated in major group shows in Ireland, Italy and France and had over eighteen solo shows in Ireland including the Vangard Gallery, Cork, Mullan Gallery, Belfast, and the Rubicon Gallery, Dublin. The Paul Kane Gallery, Dublin, represents her work.
Veronica Bolay was awarded the Fergus O'Ryan Memorial Award from the Royal Hibernian Academy in 1999, the Keating McLoughlin Medal and ESB Award in 2000, the James Adams Salesroom Award in 2002, and the prestigious Liam Walsh Prize in 2005 and 2006. In 2017, as part of Westport Arts Festival, the Custom House Studios and Gallery in Westport carried a solo exhibition of her work entitled 'Pausing at a Crossroad'. Her artwork also featured in the RHA's Annual Exhibition that year.
Poet Paul Durcan wrote two poems about her paintings, 'The Hay Carrier' and 'Island Musician Going Home'. Her work forms part of the collections of AIB; the ESB; Bank of Ireland; AXA; Dublin City University; National Self-Portrait Collection of Ireland at the University of Limerick; National University of Ireland Maynooth; Boyle Civic Collection; Irish Life; Department of the Marine; Mayo County Council; Intel; and A. Anderson & Co.
Veronica Bolay was member of the Royal Hibernian Academy and a board member at the Linenhall Arts Centre in Castlebar. She was married to the actor, Sunday Miscellany writer and translator, the late Peter Jankowsky, and is survived by their son, Aengus.
Veronica Bolay (1941-2020)