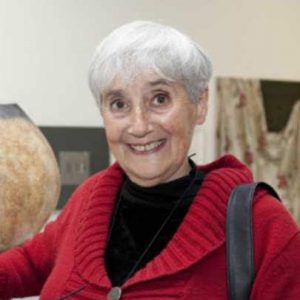 The Arts Council and Aosdána express regret at the death of visual artist and Aosdána member Sonja Landweer.
Born in Amsterdam in 1933, Sonja Landweer studied at the Amsterdam School of Industrial Design (now Rietveld Academy). She evolved a batiked-ceramic technique in the early 1960s, before moving to Ireland and working at the Kilkenny Design Workshops.
Her solo exhibitions included David Hendriks Gallery, Dublin (1967-81); Kapelhuis, Amersfoort (1966-81); Galerie In-Art, Amsterdam (1972, 93); Taylor Galleries, Dublin (1989, 92); Museum of Decorative Arts, Copehagen (1972); Hildesheim Stadtisches Museum, West Germany (1973); Ulster Museum (1990); Rudolf Heltzl, Kilkenny (1990, 91); Gallery Brigitta Moser, Zurich (1992); Kilkenny Arts Week (1992, 93, 95); Galerie Tactus Kopenhafen (1997); Frans Hals Museum, Haarlem, Holland (1998); Grimmerhus, Denmark (1998); Pepper Canister Gallery, Dublin (2001) and Butler Gallery, Kilkenny (2003-04), Visual, Carlow (2008)
Group shows included New Ceramics, Ulster Museum, Belfast (1974); Kilkenny Design Workshop (1977); World Craft Council Exhibition, Goteborg (1979); Concorso Internationale della Ceramica D'Arte, Faenza (1986); Women in irish Art, Hugh Lane Municipal Gallery Configura, Art in Europe, Erfurt, Germany (1991); Made in Europe, Gallery Trits, Delft, Holland (1992); Pur Sang Galerie Trits, Delft (1994); Frennale Zagiele Croatia (1994-97); Galerie Louis Martin, Delft, Siol, Dublin (1995); Barbican Centre London (1996); Six Amsterdammers, Galerie Amphora Holland (2000); Irish Ceramics, Scotland – Ireland (2001) and she was an invited artist for RHA shows in 2002, 2004 and 2005. Currently work by Sonja is included as part of the exhibition In the Age of Conscious Makers on display in NCAD Gallery until 6th January 2020.
Sonja won numerous awards, including the Verzetsprijs in Holland (1964), the Prix Artistique, Biennale Internationale de Ceramique d'Art, Villauris, France (1974) and the 1992 honorary award from NCAD. Honorary Mention, Critics Acclaim, World Triennal of Small Ceramics, Zagreb (1993).
Her ceramics had been widely exhibited in Ireland and abroad. Her jewellery can regularly be seen at DesignYard, Dublin and the Pepper Cannister Gallery Dublin. Her work is represented in many private and public collections throughout the world including the Arts Council Collection.