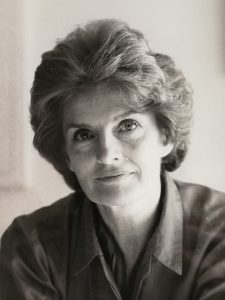 The Arts Council and Aosdána express great sadness at the passing of Aosdána member Julia Ó Faolain.
Kevin Rafter, Chair of the Arts Council said, "Julia Ó Faolain was a masterful stylist, and her work was as international as it was uniquely Irish. She wrote powerfully about the female experience, about power, about faith, about what it means to be Irish. Her work remains intensely relevant, and her exciting body of work deserves to connect with generations to come."
Born in London in 1932, Julia was brought up in Cork and Dublin, educated at the Sorbonne in Paris and the University of Rome. Ó Faolain worked as a writer, language teacher, editor and translator and lived in France, Italy, the United States and more recently the UK. 
Her novel No Country for Young Men was shortlisted for the 1980 Booker Prize. Her novels include Godded and Codded (1970), Women in the Wall (1975), No Country for Young Men (1980), The Obedient Wife (1982), The Irish Signorina (1984) and The Judas Cloth (1992).
Her short story collections include We Might See Sights! (1968), Man in the Cellar (1974), Melancholy Baby (1978) and Daughters of Passion (1982).
In 2016, her memoir, Trespassers: A Memoir, was published by Faber & Faber. O'Faolain was the daughter of Sean O'Faolain, the Irish short-story writer and director of publicity for the Dublin division of the IRA and Eileen Gould a writer of children's books, popular retellings of Irish sagas and folk myths, Trepassers is a memoir of her literary life and career 
Under the name Julia Martines, she translated Two Memoirs of Renaissance Florence: The Diaries of Buonaccorso Pitti and Gregorio Dati and Piero Chiara's A Man of Parts.
A major collection of her short stories was due to be published by Faber & Faber.