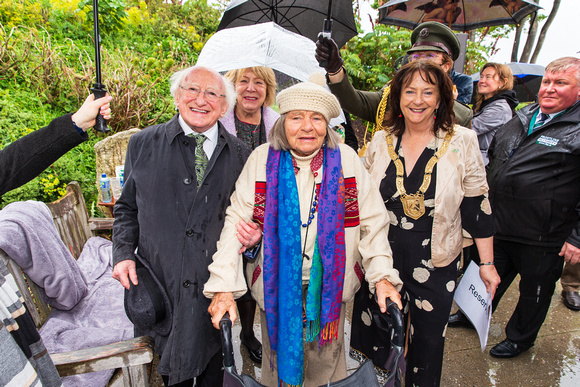 President Michael D. Higgins visited Sandycove on Friday 6th May to unveil Imogen Stuart's newly installed piece of public art "Stele", at Otranto Park, Glenageary, Dublin.
Imogen Stuart's Wicklow Granite standing "Stele",  is carved with representations of King Laoghaire and St. Patrick on two sides, with a third side carved in bi-lingual bas relief script. The wording is from a poem in an Early Irish manuscript, translated by Seamus Heaney, referencing stormy seas and Norse raiders of old.
President Higgins addressed the crowd of hundreds who gathered for the unveiling, commending Imogen Stuart's canon of work and gave thanks for her lifelong commitment to public art. Imogen Stuart gave appreciation for her stonemason and sculptor Ciaran Byrne, as well as the many individual donors and artists who, working alongside her neighbours in the Sandycove and Glasthule area, contributed works to raise funds so that the "Stele" project could be brought to life.
Speaking at the unveiling, An Cathaoirleach Lettie McCarthy thanked Uachtarán na hÉireann for being on hand at the ceremony and praised Imogen Stuart's new sculpture:
"Otranto Park on the shores of Dublin Bay is the perfect setting to site this wonderful new sculpture. Imogen Stuarts inspiring design of 'Stele', carved with skill by Ciaran Byrne, will now join a burgeoning collection of public art along our coastline following the installation of the Roger Casement sculpture last summer. The Sandycove and Glasthule Residents Association, where Imogen has been resident for 60 years, must also be commended for their work in bringing Imogen's vision for the sculpture into reality with their community lead organising. Comhghairdeas libh go léir."