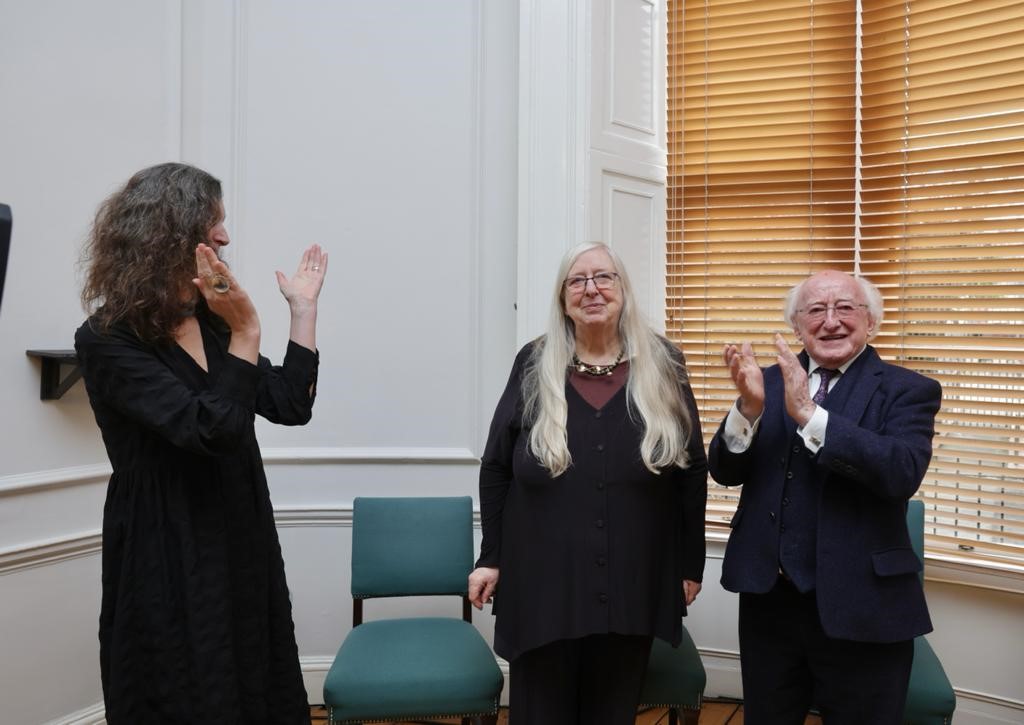 President of Ireland Michael D. Higgins presided at a ceremony this morning, Thursday 17th November, to mark the election of poet Eiléan Ní Chuilleanáin as Saoi in Aosdána.
The honour of Saoi is bestowed for singular and sustained distinction in the arts and, this afternoon, the President presented Eiléan with the symbol of the office, a gold Torc. The ceremony took place at 11:30 am at the Arts Council's offices at 70 Merrion Square, Dublin 2. 
Speaking today, poet Eiléan Ní Chuilleanáin said "The honour is tripled because it comes from such a cherished group, each one a species apart, a maker of new forms, an adventurer in the wilderness." 
The current Saoithe are: Roger Doyle (music) elected 2019; Seoirse Bodley (music) and Camille Souter (visual art), both elected Saoithe in 2008; Edna O'Brien (literature) and Imogen Stuart (visual art), both elected in 2015; and George Morrison (visual art) elected Saoi in 2016.  Members of Aosdána nominate and elect the Saoithe and no more than seven members may hold this honour at any one time.  
The ceremony was attended by many of the poet's colleagues, family and friends. Also present were Arts Council Director, Maureen Kennelly; Arts Council Deputy Chair, Fearghus O Conchuir and Toscaireacht Chair Anne Haverty.