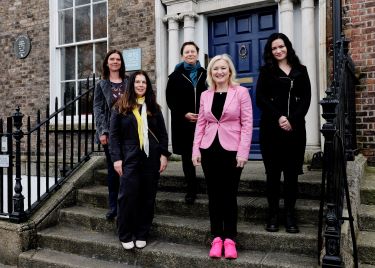 New Aosdána members, elected in 2021, gathered yesterday at the Arts Council to learn more about the affiliation of creative artists in Ireland and what it means to be a member.
The event was attended (photographed from left-right above) by Rachel Joynt (Visual Art), Diana Copperwhite (Visual Art), Anne Enright (Literature), Amanda Coogan (Visual Art), and Linda Buckley (Music).
The members had an opportunity to meet each other as well as members of the Arts Council. Arts Council Director Maureen Kennelly welcomed the new members. The members listened to a presentation on Aosdána covering Membership; the General Assembly; Nominations and Election; Saoi; Toscaireacht; Cnuas and Administration, as well as hearing about Promotion and Projects. Aosdana, founded in 1981, honours artists whose work has made an outstanding contribution to the creative arts in Ireland as well as assists members in devoting their energies fully to their art practice.
The presentation can be found here.