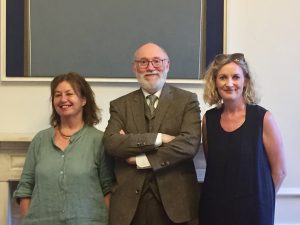 Arts Council congratulates writer Dermot Bolger on receiving the Anthony Cronin Award at an event in the Arts Council with Aosdána Toscaireacht and Director Orlaith McBride.
Dermot Bolger will use the Award to commence an autobiographical poem sequence exploring the social changes in Irish society that have occurred during the author's lifetime. This will be worked on during periods of intensive writing spent in locations abroad as well as in Ireland. The Award will also enable the writer to buy time to revise and complete his Selected Short Stories to be published in book form in late 2020.
Born in Dublin in 1959, Dermot Bolger's fourteen novels include Night Shift, The Woman's Daughter and The Journey Home, each chart a different decade of working-class Dublin life. More recent explorations of contemporary Ireland include The Valparaiso Voyage, Tanglewood, The Fall of Ireland and The Valparaiso Voyage.  His first play, The Lament for Arthur Cleary, received the Samuel Beckett Award. Other plays include In High Germany, The Holy Ground, April Bright and The Parting Glass. His latest play, Last Orders at the Dockside, premieres at the Abbey Theatre during the 2019 Dublin Theatre Festival. At eighteen he established Raven Arts Press, which became one of Ireland's most innovative publishing houses. In 1992 he closed Raven to co-found New Island Books, now one of Ireland's leading publishers.
Toscaireacht Chair Anne Haverty presented the Award alongside fellow Toscairi and Aosdána member Thomas McCarthy.
Anthony Cronin (1928-2016) was one of the most significant writers of recent times. Though primarily a poet, whose collections include the lyrically intellectual and self-searching RMS Titanic, The End of the Modern World, The Minotaur and The Fall, he was equally a gifted writer of prose. His range is expressed in works such as the brilliantly comic novel The Life of Riley, the mordantly poignant Dead As Doornails, and the definitive biographies of Samuel Beckett and Flann O'Brien, The Last Modernist and No Laughing Matter.  In his role as Advisor on Arts and Culture to An Taoiseach, Charles J Haughey he was a prime mover in the foundation of IMMA, the Heritage Council and Aosdána. He was elected a Saoi of Aosdána in 2003.
The award is made in memory of Anthony Cronin and is worth €13,000 which includes €3,000 for international travel. The Arts Council received a total of 21 applications for this award, deadline 7 February 2019, and offered 1 award in March 2019.
Photo shows from left: Anne Haverty, Dermot Bolger, Orlaith McBride