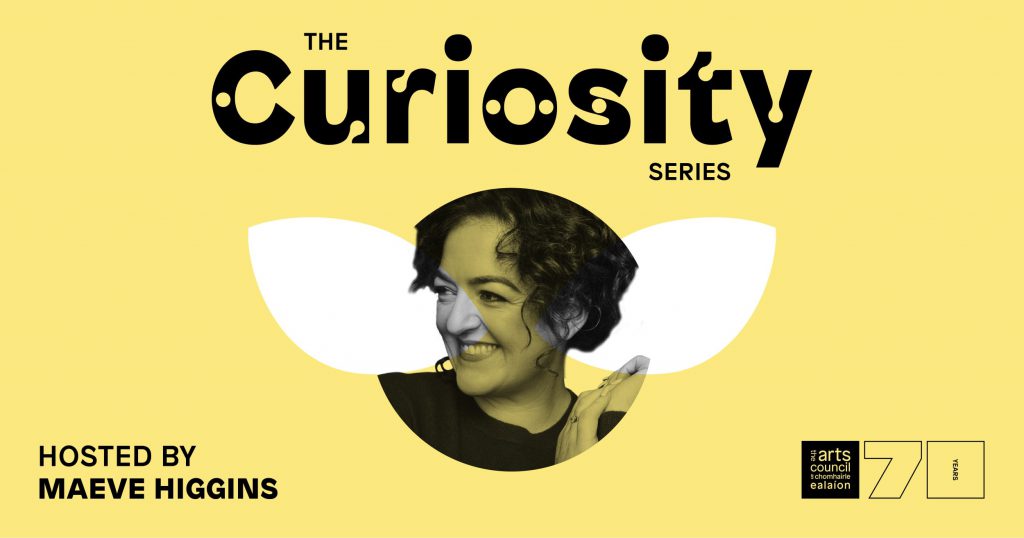 'The Curiosity Series', hosted by Maeve Higgins, starts next Monday, August 22nd with new podcast episodes every fortnight.
The Curiosity Series is an Arts Council podcast commissioned as part of the Council's 70th anniversary celebrations hosted by writer, comedian and podcaster Maeve Higgins. In each episode, you'll hear artists involved in music, dance, poetry, literature, visual arts and theatre in conversation with Maeve as they get curious about each other's work, explore the integral role that creativity has played in their lives, and discuss the broader issues and themes that connect their art.
Featured artists include Geraldine O'Reilly, Mary O'Donnell, Mia Gallagher, Cindy Cummings, Roger Doyle, Trevor Knight, Jane O'Leary, Gwen O'Dowd, John McLachlan, Brian Leyden, Rosaleen McDonagh, Michael O'Loughlin, and Annemarie Ní Churreáin.
The episodes delve into a range of topics, as artists explore their connections and collaborations together, and Maeve Higgins brings her own curiosity and inimitable sense of humour to the conversations.
Episode 1: Geraldine O'Reilly and Mary O'Donnell
In the first episode, host Maeve Higgins is joined by visual artist and printmaker Geraldine O'Reilly and writer Mary O'Donnell. They discuss Unlegendary Heroes, a work by Geraldine O'Reilly based on a collection of poetry of the same name by Mary O'Donnell, currently being exhibited at the Royal Hibernian Academy Annual Exhibition.
Both artists speak to Maeve about the elusive nature of creative inspiration, about working together on Unlegendary Heroes and about the themes of womanhood that permeate this work. You'll also hear some of the poems that form part of the exhibition, as well as more about current and forthcoming work from both artists, including Mary's latest novel, Mother, Dear Vampire.
Geraldine and Mary discuss their lives as artists with honesty and humour, offering insight into their respective creative processes as well as the themes and issues that matter to them in their art.
Episode 2: Mia Gallagher and Cindy Cummings
In the second episode, host Maeve Higgins speaks to writer Mia Gallagher and dance artist Cindy Cummings, both members of Aosdána, about their experience of artistic collaboration. Although working in different disciplines, Mia and Cindy share an interest in working collaboratively with other artists across artforms.
They discuss the changes in collaborative practice in Ireland, the challenge of facing failure and mistakes when making art, and how to navigate fear and vulnerability in the creative process. They discover common threads between their very different artistic practices and share with Maeve what they're currently 'tipping away at'.
The Curiosity Series with Maeve Higgins: Episode 3 – Roger Doyle and Trevor Knight
Episode three sees Maeve Higgins follow the musical journeys of composers and friends Roger Doyle and Trevor Knight. Roger and Trevor came to their artistic practice through different routes in the 1980s: Trevor learning his craft with pop music group Auto Da Fé while Roger trained as a composer at the Royal Irish Academy of Music and later at the Institute of Sonology in Utrecht. Since then they have worked together on various music projects over the years, which have encompassed their shared artistic interests despite their very different paths to careers in music, from their early love of jazz and working in theatre to their shared interest in music improvisation.
Along the way, they look back on the changing music scenes in Ireland in the 80s and 90s, reflect on the changing landscape for musicians starting out in today's world, as well as highlighting the role and responsibility of the Aosdána to support artists working in different forms of music.
Looking back on successful artistic careers that have seen them cross genres and engage with many different artists and art forms, Roger and Trevor paint a vivid picture of their musical lives, sharing anecdotes and stories that illuminate the artistic richness and occasionally the madness of being a composer and musician in Ireland.
Episode 4 – Jane O'Leary and Gwen O'Dowd
In episode four, composer Jane O'Leary and painter Gwen O'Dowd join Maeve to delve deeper into the inspirations and motivations behind their art.
Both Jane and Gwen have found artistic inspiration in the power and beauty of the sea, and in this episode they speak to Maeve about how that inspiration has taken shape in their work and how it has brought them together for artistic collaborations at the Sonic Arts Research Centre in Belfast.
In a lively and perceptive conversation, Jane and Gwen discuss how colour and movement informs their artistic work, the role of the audience when making art and how they access and express emotion in the creative process.
A fascinating conversation which highlights how even though the mediums are different, artists often speak the same language when creating artistic work.
Episode 5: John McLachlan and Brian Leyden
In the penultimate episode of The Curiosity Series, Maeve Higgins speaks with writer Brian Leydon and composer John McLachlan about the writer Leland Bardwell (1922-2016) and the centenary celebrations of her birth taking place this year. John and Brian speak to Maeve about uncovering new manuscripts and organising Leland's incredible creative output in a new website dedicated to her work, as well as preparing for new and upcoming publications in 2022, including My Name Suspended in the Air: Leland Bardwell at 100 edited by Libby Hart (Lepus Print, 2022).

Together they delve into Leland's work as a writer in the context of her fascinating and somewhat unconventional life, exploring themes of feminism and the role of the outsider in her writing. They also speak about their own respective relationships with Leland as a mother and a friend. An artist who was well and truly ahead of her time, this episode examines the personal and professional connections brought together in Leland's art.
Episode 6: Michael O'Loughlin, Rosaleen McDonagh and Annemarie Ní Churreáin

In our final episode of the series, Maeve is joined by three writers from three different generations: poet Annemarie Ní Churreáin, playwright Rosaleen McDonagh and poet, translator, and critic Michael O'Loughlin as they explore the themes that have shaped each others artistic work and lives.
Annemarie, Rosaleen and Michael speak to Maeve about insider/outsider perspectives in their artistic practice and about stepping into their own creative power, as well as the limitations and liberations of language and whether the personal is political in art.
Episodes available to stream on the usual platforms, including Spotify, Apple Podcasts, Google Podcasts and Soundcloud or visit the Arts Council website.
Production: Milestone Inventive and bigO
Audio engineering: Scimitar Sound