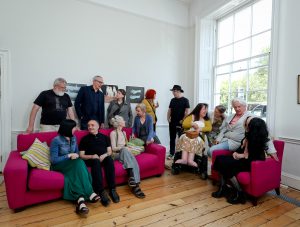 New Aosdána members, elected in 2019, 2018 and 2017, gathered at the Arts Council to learn more about the affiliation of creative artists in Ireland and what it means to be a member.
The event was attended by Aideen Barry, visual artist; Anna Burns, writer; Shane Cullen, visual artist; Mia Gallagher, writer; Margaret Irwin West, visual artist; Stephen Lawlor, visual artist; Trish McAdam, visual artist; Mike McCormack, writer; Niall McLaughlin, architect; Rosaleen McDonagh, writer; Gerry Murphy, writer; Doireann Ní Ghríofa, writer; Isabel Nolan, visual artist; Fiona Quilligan, choreographer.
The members had an opportunity to meet each other as well as members of the Arts Council. Arts Council Director Orlaith McBride welcomed the new members and spoke about the importance of Aosdana, founded in 1981, to honour artists whose work has made an outstanding contribution to the creative arts in Ireland as well as assist members in devoting their energies fully to their art practice.
The members listened to a presentation on Aosdána covering Membership; the General Assembly; Nominations and Election; Saoi; Toscaireacht; Cnuas and Administration.
The presentation can be found here.
Aosdana Introduction for New Members
Photo shows from left Gerry Murphy, Doireann Ní Ghríofa, Stephen Lawlor, Niall McLaughlin, Isabel Nolan, Mia Gallagher, Fiona Quilligan, Trish McAdam, Mike McCormack, Rosaleen Mc Donagh,
Anna Burns, Shane Cullen and Aideen Barry.