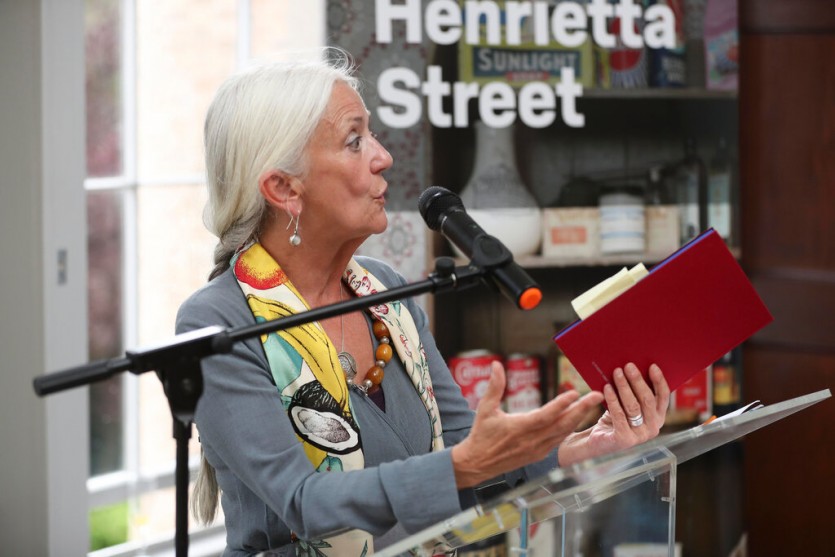 Paula Meehan in conversation with Donal Fallon, explored her relationship with Henrietta Street and Tenement housing in the early 20th century, with stories and discussions about the creative process that these spaces help to inspire.
Teatime Talks is a series of talks inspired by the history and people of 14 Henrietta Street. Renowned Irish poet, Paula Meehan has a unique connection with the house as she was commissioned to create her poetry collection Museum, inspired by the building and Henrietta Street itself. Paula Meehan and award-winning photographer, Dragana Jurišić joined forces to create a book celebrating the varied history of, and the lives lived in, 14 Henrietta Street. The result is 'MUSEUM', a 68-page book, featuring 11 sonnets inspired by the house, with accompanying photography taken in and from the house. Both Paula's words and Dragana's photography beautifully capture the story of the building and the lives lived in it.
Visitors to the house will already be familiar with 'This Bed, This Raft on Stormy Seas', which features as part of the guided tours and is voiced by Paula Meehan. Paula, who grew up in tenement housing in Dublin, said: "I feel privileged for a myriad of reasons to have been invited to respond to the house and to make this poetry sequence."
14 Henrietta Street and its hauntings gripped my imagination from the moment I first crossed the threshold. 14 Henrietta Street is a social history museum of Dublin life, from one building's Georgian beginnings to its tenement times. We connect the history of urban life over 300 years to the stories of the people who called this place home. Intimate group tours, bring to life the stories of the humans who lived in the house, their changing circumstances, their experience of family life, of politics, and the impact of world affairs.
By listening and talking with visitors, historians, local residents and their families and through the knowledge of others, the museum continues to discover new stories, gathering memories and adding to the museum's collection and visitor experience.
Find out more at www.14henriettastreet.ie