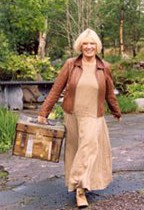 Member of Aosdána and the RHA, artist Pauline Bewick was born in Northumbria in 1935 before moving to a small farm in Co. Kerry. After travelling all over Ireland and attending school in England and Wales, Pauline returned to Ireland to attend the National College of Art and Design. 
Based in Glenbeigh, Co. Kerry since 1973, Pauline's work drew much inspiration from the area's people, flora and fauna. Pauline's work was exhibited and collected extensively in Ireland. Some notable exhibitions include the 1986 retrospective exhibition, Two to Fifty, and a 1996 exhibition of the Yellow Man series of paintings in the Royal Hibernian Academy. Dr. James White, former director of the National Gallery of Ireland wrote her biography: Pauline Bewick: Paining a Life, in 1985.
Pauline donated 500 pieces of her work to the nation, including tapestries, wall hangings, watercolours, and sketches. In 2019 she was presented with the Kerry Association in Dublin Arts Award by President Michael D. Higgins who said the award was an important acknowledgement of all that Pauline has gifted to the cultural and artistic dimension of our society, throughout a long and distinguished artistic career. 
Director of the Arts Council, Maureen Kennelly, paid tribute to the late artist: "I am greatly saddened to hear of Pauline's passing. Pauline contributed an enormous amount to the arts in Ireland and the Arts Council was honoured to have her as one of the first members of the Aosdána appointed in 1981. Pauline's love of Co. Kerry and its people was powerfully expressed through her extensive catalogue of work".