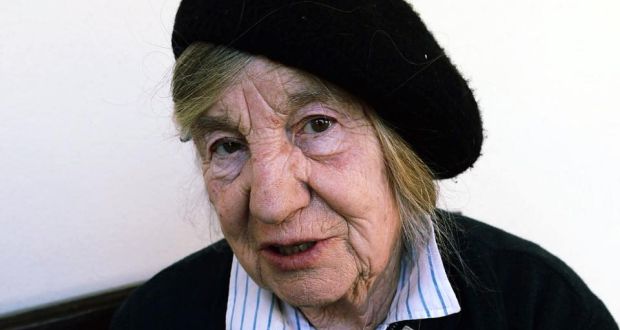 Camille Souter was raised in Ireland and originally trained as a nurse at Guy's Hospital London, before taking up painting in the mid 1950s. Though her usually small-scale paintings appear abstract they are firmly based within reality and the everyday. Souter has exhibited extensively since the 1960s.
Kevin Rafter, Chair of the Arts Council said today: "We are deeply saddened to learn of the death of Camille Souter, one of Ireland's most enduring painters. From early abstract expressionist pieces to more impressionistic figurative works, she sought to capture the raw, unfiltered beauty that she saw in everyday places and commonplace things with a singularly tenacious resolve. Her paintings were never solely 'beautiful' in a traditional sense, but she did not want them to be. Instead they are robust, challenging, imbued with a 'statuesque elegance' all her own. Camille's output is absolutely unique in the context of Irish art, and I am certain that her legacy will continue to inspire artists and audiences alike for generations to come." 
Maureen Kennelly, Director of the Arts Council, commented: "Camille Souter produced an extraordinary body of work over the course of almost seventy years, much of it on her beloved Achill Island. Her profound contribution to the visual arts in Ireland cannot be underestimated. Her election to Saoi of Aosdána in 2009 was a well-deserved honour and we are grateful for her work. Our thoughts are with her family and friends at this very sad time. She will be deeply missed."  
Her work is characterised by both an interest in ordinary, unexceptional things and a tendency to paint in series. These have seen flying, medical memories, the Gulf War, meat and the circus appear as recurring themes.  From early paintings, largely described by sources other than the artist as abstract, to more representational figurative work, Souter's interest in the everyday, the things she encountered on her journey through life was a constant.  
Major retrospectives of her work were held at The Douglas Hyde Gallery, Dublin, in 1980 and at the Ulster Museum, Belfast, in 2000. In 2000 Souter received the IMMA Glen Dimplex award for contribution to visual arts in Ireland. More recently, she produced two limited-edition giclée prints; one as part of the IMMA 'Editions' series and another, The Late Night Show, from her circus series. Souter was an Honorary member of the RHA and a member of Aosdána. She was elected Saoi of Aosdána in 2009, when she was presented with the symbol of the office of Saoi, the gold Torc. 
A number of Camille's pieces feature in the Arts Council Collection and can be viewed here.