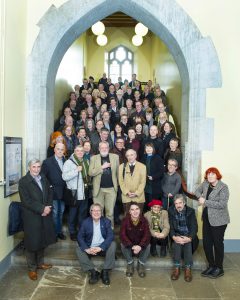 Aosdána, the affiliation of creative artists in Ireland, elects six new members at its annual General Assembly in University College Cork, 5 April 2019.
The six newly elected members are visual artist Aideen Barry; writer Anna Burns; architect Niall McLaughlin; visual artist Clare Langan; writer Doireann Ní Gríofa; visual artist Margaret Irwin West. This brings the membership to 250 members.
At the meeting, members expressed their deep sadness at the deaths of former members, writer Padraic Fiacc; writer Matthew Sweeney; composer Tommy Peoples; visual artist Melanie leBroquy; writer Macdara Woods and visual artist Sean McSweeney. All of whom have died since the 39th General Assembly. A minute's silence was observed in their memory.
Aosdána was founded in 1981, by the Arts Council and the Irish government, and honours artists whose work has made an outstanding contribution to the creative arts in Ireland.
Membership of Aosdána, which is by peer nomination and election, is limited to 250 living artists, who have produced a distinguished body of work. The membership includes creative artists working in a wide range of disciplines including architecture, choreography, music, literature and visual art. Aosdána members are eligible to apply for a cnuas from the Arts Council. The cnuas, granted for a five-year term, is a multi-annual bursary offered to Aosdána members who meet certain conditions, so that they can devote their energies fully to their art.