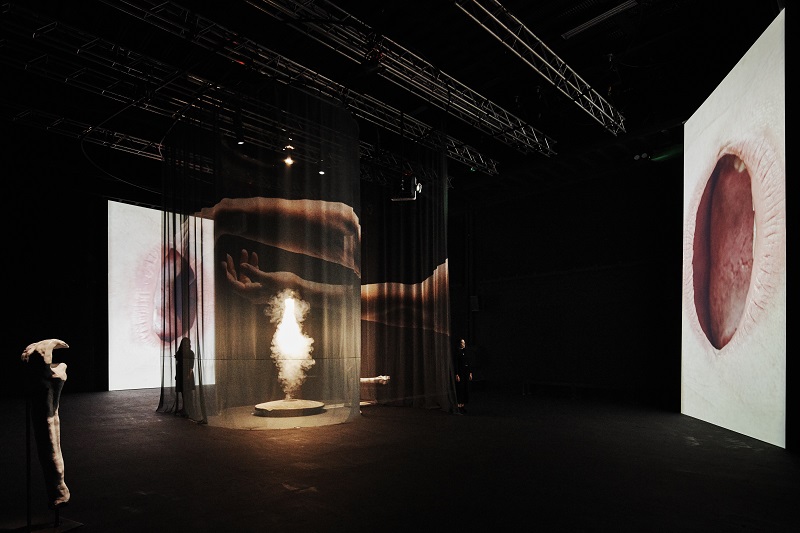 Aosdána, the affiliation of creative artists in Ireland, elected 1 new member at its annual General Assembly in O'Reilly Hall, UCD Belfield, 14 November 2022. The newly elected member is Jesse Jones and brings the membership to 250 members.
At the meeting, members expressed their deep sadness at the deaths of former members: In 2019, Micky Donnelly; Ciaran Carson; Ulick O'Conor; Tom McIntyre; Sonja Landweer: in 2020 Veronica Bolay; Joe O nEachtain; Janet Mullarney; Tim Robinson; Michael Cullen; Eric Sweeney; Eugene McCabe; Derek Mahon, Felim Egan; Julia O Faolain: In 2021, David Shaw Smith; Seamus Deane; John Kinsella: and most recently in 2022 Pauline Bewick. All of whom have died since the 40th General Assembly was held in University College Cork in 2019. A minute's silence was observed in their memory as well as a photo collage of images of all these former members displayed for all to see. No General Assembly took place in 2020 or 2021 due to Covid-19 restrictions. During these two years the election of new members took place by postal vote in place of an actual Assembly.
The Aosdána General Assembly featured the launch of Aosdána Beginnings by Mark Duncan in celebration of the 40th anniversary of Aosdána. Published by the Arts Council the book will be made available via the Arts Council web site and online. Mark O Kelly, Council Member, launched the publication with Mark Duncan speaking at the launch. The publication is an illustrated text of historical and cultural significance which tells the history of Aosdána and how it was founded. It highlights the artistic work of members as individual artists paying particular attention to the Saoithe as well as incorporating all five disciplines: Literature; Visual Art; Music; Choreography; Architecture. It lists the original 89 members appointed in 1981 and outlines all members elected since 1984.
The Assembly also introduced work by students of UCD College of Arts and Humanities. The event concluded with author Anne Enright delivering a eulogy to Anthony Cronin, former founding member of Aosdána and Saoi.
Aosdána, founded in 1981, honours artists whose work has made an outstanding contribution to the creative arts in Ireland, and assists members in devoting their energies fully to their art. Membership of Aosdána, which is by peer nomination and election, is limited to 250 living artists, who have produced a distinguished body of work. The membership includes creative artists working in a wide range of disciplines including architecture, choreography, music, literature and visual art.
Jesse Jones
Jesse Jones is a Dublin-based artist. Her practice crosses the media of film, performance and installation. Often working through collaborative structures, she explores how historical instances of communal culture may hold resonance in our current social and political experiences. Jones' practice is multi-platform, working in film installation, performance and sculpture. Her recent work proposes a re-imagining of the relationship between the Law and the body through speculative feminism.
Using a form of expanded cinema she explores magical counter-narratives to the State drawn from suppressed archetypes and myth. Major public commissions include, in the Shadow of the State with Sarah Browne, co commissioned by Create, Artangel and ART: 2016.
She represented Ireland at the Venice Biennale 2017 with the project Tremble Tremble whos title is inspired by the 1970s Italian wages for housework movement, during which women chanted "Tremate, tremate, le streghe sono tornate! (Tremble, tremble, the witches have returned!)".
Jones' work emerges from a rising social movement in Ireland which calls for a transformation of the historic relationship between the church and the state. She is currently the inaugural artist in residency for the King's Inn society of Ireland where she is researching the relationship between, Law, Testimony and performance.
Recent solo exhibitions include, Talbot Rice Gallery Edinburgh; Project Arts Centre, Dublin; ICA Singapore and an upcoming solo presentation at Guggenheim Bilbao. Future projects include a five year commission for Kunsthalle Gent, The Magdalen project at Rua Red. Her teaching practice runs parallel to her work as an artist, this practice is based on Sherkin Island Cork as a lecturer for TU Dublin School of Creative Arts.