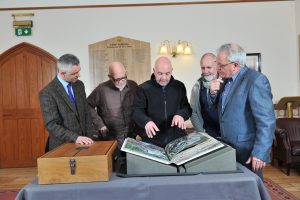 In April 2019 the 40th Annual General Assembly of Aosdána was held in University College Cork. The Assembly took place on 5th April and was preceded by a special ceremony in UCC on 4th April, during which members were invited to view The Great Book of Ireland.
The Great Book, or Leabhar Mór na hÉireann, is a vellum manuscript containing the original work of 120 artists, 140 poets and nine composers. Produced between 1989 and 1991, the book was acquired by UCC to be preserved on behalf of the Irish people.
As well as containing what are believed to be the final written words of celebrated playwright and former Aosdána member Samuel Beckett, The Great Book of Ireland also holds works by many of the current members of the Aosdána, who were able to view their work in the book during their visit to the university.
Some photos from the event of Aosdána members viewing pages in The Great Book.
Photo One: Aosdána member Michael Holohan and Crónán Ó Doibhlin, UCC, view Page 130 by Poet Paul Muldoon and Artist Mary Farl Powers.
Photo Two: Crónán Ó Doibhlin, UCC with Aosdána Members Sean O' Reilly, Mia Gallagher, Paddy Bushe, Evelyn Conlon and Siobhan Cleary view Page 91 by Poets Rita Ann Higgins & Robert Donoghue and Artist Carmel Benson.
Photo Three: Aosdána member Gerry Murphy views Page 133 by Poet Gerry Murphy and Artist Charlie Harpur.
Photo Four: Crónán Ó Doibhlin, UCC with Aosdána Members John F. Deane and Trevor Knight view Page 22 of Poets John F. Deane and Rory Brennan and Artist Markus Thonett.
Photo Five: Crónán Ó Doibhlin, UCC with Aosdána Members Jane O' Leary and Poet Moya Cannon view Page 158 by Composers Jane O' Leary & John Buckley and Poet Éilís Ní Dhuibhne.
Photo Six: Crónán Ó Doibhlin, UCC with Aosdána Members Trevor Knight, Eamon Colman, Donald Teskey, Gerard Smyth and Charles Tyrell view Page 105 by Poet Gerard Smyth and Artist Clifford Colley.